It's FINALLY here! I am so excited to be announcing the release of my newest cookbook, the Lauren Fit Foodie Savory Cookbook: Pick your Protein, Pick your Dish!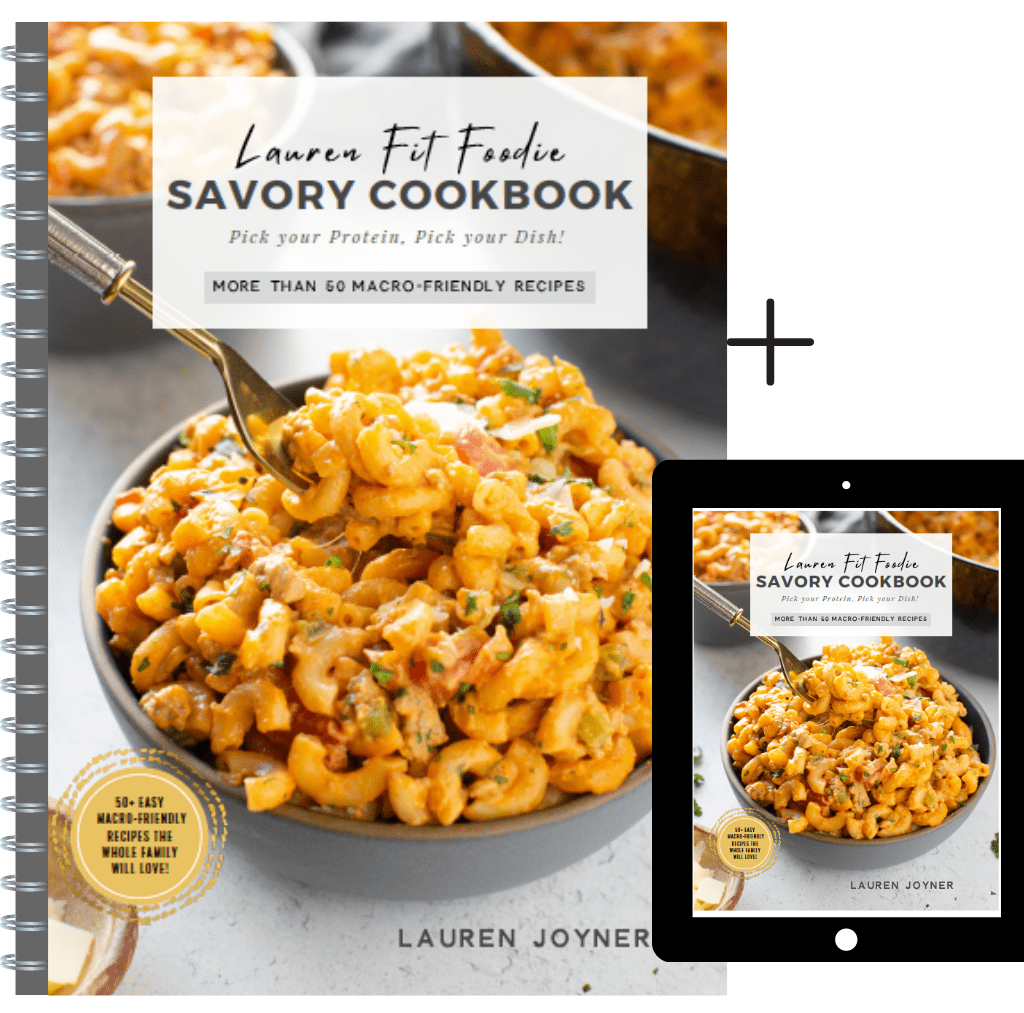 I am so proud of this cookbook. It is no doubt a HUGE level up from my first cookbook, All Things Sweet. I mean HUGE! There are more recipes, way more variety, and this book makes it SUPER easy to customize each meal to your preference or dietary needs.
My vision with this cookbook was to make your life easier with a variety of simple and tasty recipes that are easily accessible and all together in one place. I want to show you that healthy eating can be both easy and delicious! I want to show you that you can achieve your fat loss and muscle-building goals in an approachable and sustainable way— and that comes from having meals that are easy to make, having variety in them, and incorporating food you love!
FEATURES OF THIS SAVORY COOKBOOK
10

PROTEIN

recipes – including chicken, beef, turkey, salmon. Meal prep your protein in bulk for the week and mix and match for each meal/recipe depending on what you're in the mood for.
39

DISH

recipes – including every possible type of dish you can think of – salads, bowls, tacos, egg rolls, skillets & stir-fry, pasta, casseroles, and more!
8

DRESSINGS & FLAVOR MAKERS

recipes – delicious dressings, sauces, and dips fitting for every type of cuisine you can imagine.
Your favorite meals made LIGHTER and HEALTHIER – tacos, egg rolls, pasta, mac and cheese, mashed potatoes, etc… all your favorite 'not-so-great-for-you' foods have been lightened-up, without any sacrificing any of that delicious flavor.
MACRO-FRIENDLY centered recipes – not only are these meals lighter and healthier, but they are also centered around a macro-friendly diet, which typically means lower fat, lower to moderate carb, and higher protein than the typical American diet.
VARIETY of different

CUISINES

– there is great mix of flavors and cuisines in these proteins and dishes! American, Greek, Asian, Mexican, etc! Your taste buds will not grow bored.
CUSTOMIZABLE – customize each dish to the protein you wish to use, the ingredients you have on hand, your nutritional needs (macros/calorie goals), and to your and your family's taste buds and likings.
MY FITNESS PAL tracking capabilities – all recipes in this cookbook are already added to the My Fitness Pal database, so all you have to do is search the recipe and log!
Instructions and STEP-BY-STEP guide for how to create your own recipe in My Fitness Pal – if you track your calories/macros in My Fitness Pal and want to change an ingredient up, I'll walk you through how to create your own recipe in My Fitness Pal so you can log your recipe correctly.
EASY TO FOLLOW HEALTHY MEALS – even if you don't track macros or want to change anything about the recipe, just follow the recipes in this cookbook as is to prepare healthy, easy, and delicious meals for you and your family!
Life's too short for you not to head into each meal EXCITED for what you're about to eat. And I am so serious about that! Gone are the days where you have to pick if you want to eat something 'healthy' or something 'GOOD." Gone are the days where you have to eat the same thing for multiple meals just to get through the leftovers. It's time to fill your week with an array of healthy meal options that you can mix and match between– ones that you and your family will both love AND look forward to!
There are a few recipes in this cookbook that you may have seen before, like the Pork Carnitas, Buffalo Chicken Spaghetti Squash Casserole, and Rainbow Chicken Salad. But the majority of the recipes in this cookbook are brand spanking new and ones I created just for this cookbook!
The way this book is structured is by "Proteins" and by "Dishes."
The dishes then separate into more specific categories as you can see in the table of contents below. The intention of structuring the book this way was so that you can essentially pick the protein, or proteins you wanted for the week, and then the dishes that you wanted to go with it. Or simply by picking the protein you wanted in the dish itself, if it calls for a protein. We all have different taste preferences, nutritional needs, or special diets we follow. And sometimes we just may not have exactly what is called for in the recipe. So this method is flexible and allows you to be in control of the recipe itself, adjusting the protein as you so wish too. And if don't want to adjust at all, you don't need to! Either way, it makes it easy!
PROTEINS
I wanted to include a wide variety of different proteins in this book and I think I accomplished just that! Not only do we have different types of protein (chicken, beef, turkey, etc.) but you can also decide what to make based on how you want to cook it (Crock-Pot, skillet, grill, etc.) or what cuisine flavors you're in the mood for (i.e. Korean Beef, Mexican Ground Turkey, Greek Chicken, etc.)
DISHES
As mentioned before, the dishes are further separated into what type of dish they are and how they are prepared. This makes it easy to pick which recipe you which to make based of level of cooking you're feeling up to or what you have access to. We have:
Salads and Bowls
Wraps, Tortillas & Sandwiches
Stir-fry, Skillets & Stovetop
Pasta
Casseroles, Sheet Pans & Oven-baked
EXAMPLE LUNCH + DINNER MEAL PLANS FOR THE WEEK
This book just features lunch and dinner recipes, but no worries, I have plenty of breakfast, snack and dessert ideas on my blog to fill the gap in between!
Some favorite breakfast recipes: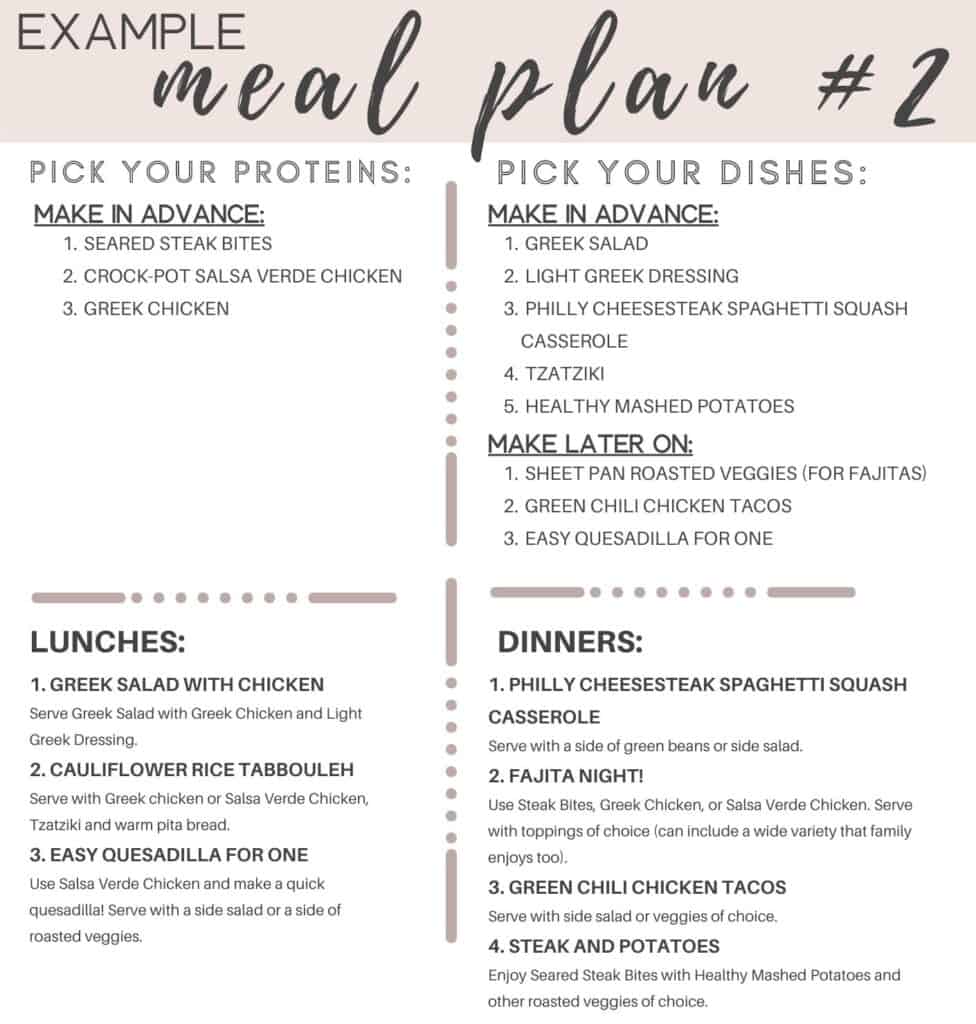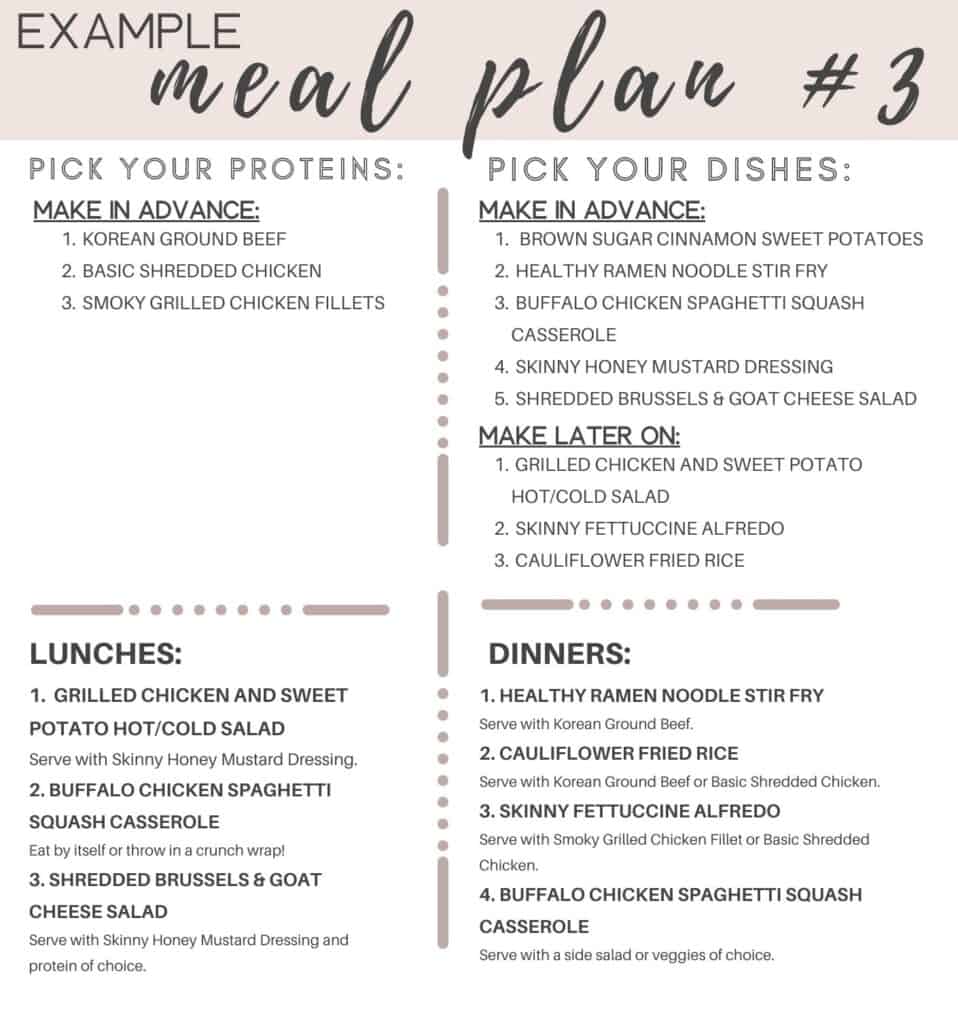 EASY TRACKING WITH MY FITNESS PAL
Each recipe in this cookbook has been entered into the MyFitnessPal database, so all you have to do is search and log! If you want to change a recipe up, but still want the macros to be precise, I lay out the instructions for how to do that too! I'm telling you guys, I want to make healthy both delicious and EASY for you!!
If you have any questions about this cookbook at all, please do not hesitate to ask! You can do so here on this blog post or by emailing me at [email protected].
SO PUMPED TO SHARE THIS COOKBOOK WITH Y'ALL!!!!!