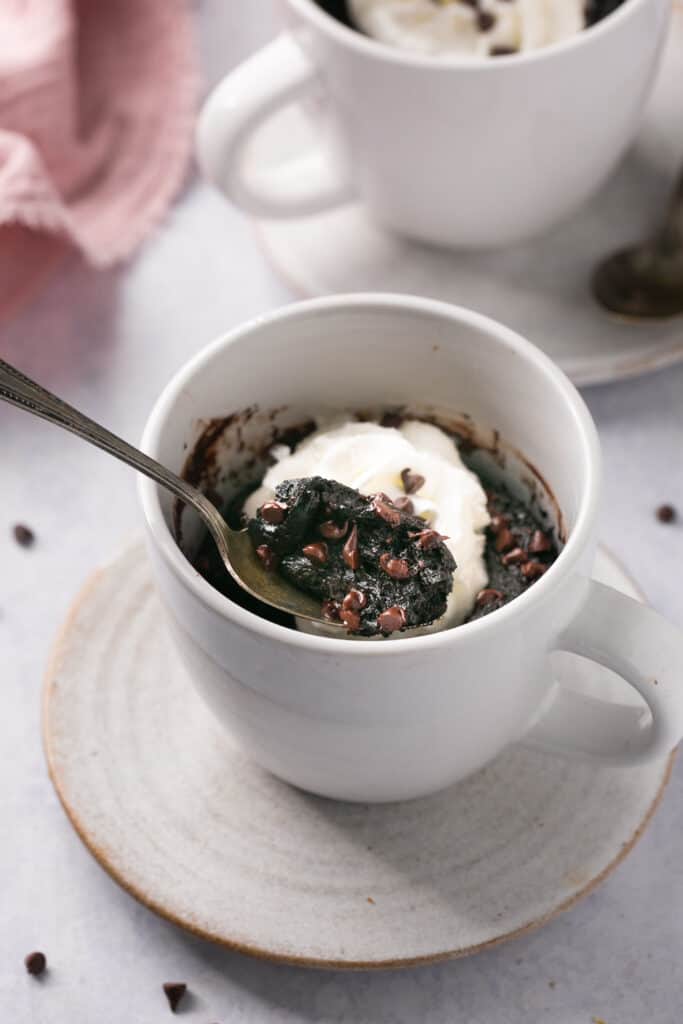 This High Protein Lava Cake is the perfect dessert to quickly curve your chocolate cravings when your sweet tooth strikes! Made with a few staple ingredients and ready to eat in a minutes time, this microwavable chocolate cake will quickly become your new favorite dessert!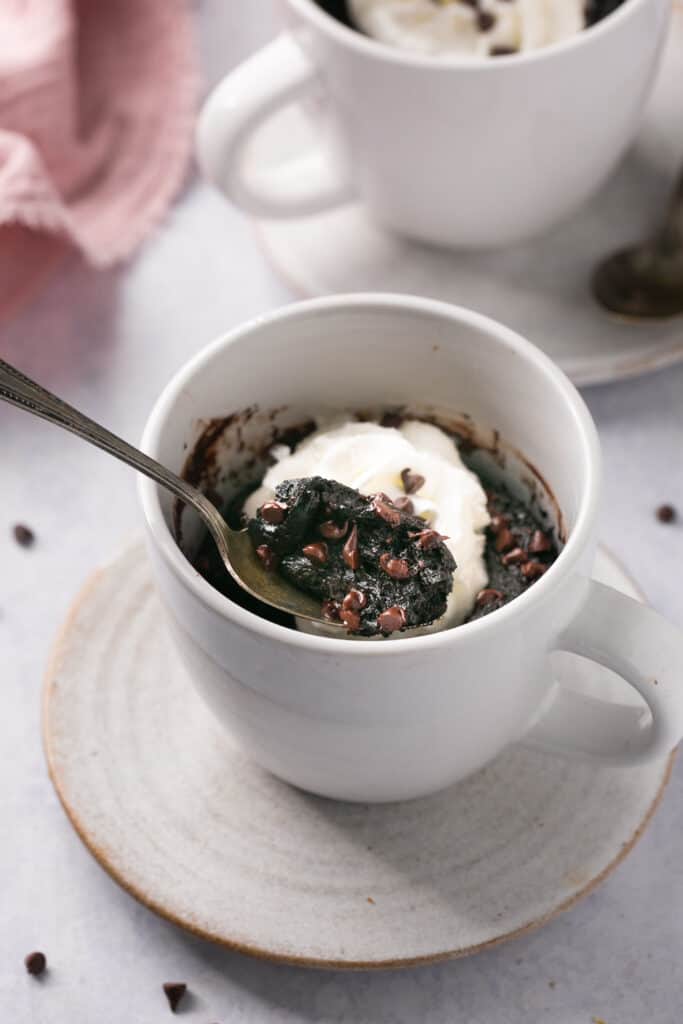 My heavens y'all – we sure have stumbled amongst a winner here! This dessert came about the other night when I NEEDED chocolate. Yes, needed. It was late. I was tired, and I wasn't about spending time or energy in the kitchen to whip up a healthy treat. As easy as my go-to's are (ehrm Chocolate Chip Protein Skillet Cookie and Protein Fluff) I really was just NOT having it. Does this scenario sound familiar? 😂
Instead of reaching for the halloween candy bag (which I very much wanted to do), I decided I would give a go at a protein cake I could make in the microwave. Because #easy. To be honest, I had no idea how it would turn out, but I was hopeful (and desperate). So I mixed a couple of ingredients in bowl, put it in the microwave and crossed my fingers. Lucky for me, it turned out amazing. More amazing than any other cake I had ever tried to microwave before in my life – and let me tell y'all, there's been a lot. Which is also low-key frustrating because I have planned and attempted many microwave cakes before and of course I finally nail it when I wasn't trying to. Ha! Always happens like that right?
To be honest, I am reaaaaaally so glad it turned out so well. Not just so I can share it with you guys and remake myself, but because really – that bag of halloween candy would have stood no chance if this thing failed. 😂 So if you ever find yourself in a similar situation as me where it is late and you are tired and desperate for chocolate…. before reaching for the candy, GIVE THIS CAKE A GO.
What I loved most about the cake was the combination of actual cake + gooey fudgy batter. Hence why I named it Molten "Lava" Cake. I set the cook power on the microwave at 7 which allowed me to create the perfect texture for both. It's not bad if you don't change the microwave cook power, but I think it is better this way because the outer rim of the cake doesn't cook as much, and therefore, is less spongy.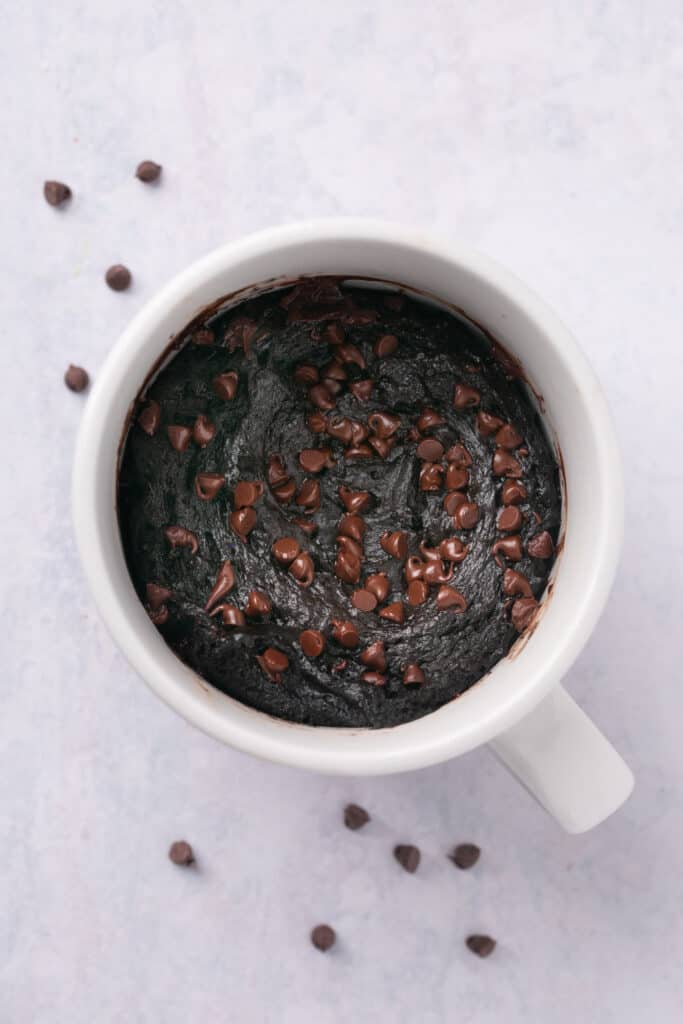 PROTEIN LAVA CAKE INGREDIENTS
Protein powder – I used

PEScience vanilla protein powder

for this one but any flavor will work.
For all PEScience products, you can use code "LaurenFitFoodie" to save 10%.
Cocoa Powder – normal cocoa powder or dutch black cocoa powder (see below for differences)
Peanut butter powder – I buy the big tub off Amazon like the one

here

to save a few bucks and because I know I'll go through it.
Jello-O sugar-free chocolate pudding mix – or any flavor for that matter, the chocolate just makes it more chocolatey, which we love right??
Sweetener of choice – I typically just use a packet of Splenda, but really any sweetener will work.
Baking powder
Unsweetened almond milk – or any milk of choice!
Vanilla extract – optional, but I like the flavor it adds
HOW TO MAKE PROTEIN LAVA CAKE
Just throw everything into a bowl, mix and microwave! I mean that is basically it 😂
But for BEST results, I would just say to:
Make sure to mix the dry ingredients first – this will help make sure everything is mixed well and bakes evenly. Plus, no one likes getting baking powder clumps in their bite. Blah! Mixing the dry ingredients first helps prevent that.
Transfer to a microwave-safe bowl sprayed with cooking spray after mixing everything. You don't have to do this and it's not that messy if you don't – but really – clean up is next to none when you do and its not that hard. It's literally just an empty bowl with no remains. Plus I just rinse the batter bowl immediately while this is microwaving so it's not like I'm wasting extra dishes anyway.
Change the cook power on your microwave! Again, not necessary, but if you're all about having the most optimum experience here. 👏🏼
BLACK COCOA VS. DARK COCOA POWDER
Since making this I have used both normal dark cocoa powder (Hershey's brand) and dutch black cocoa (either Wincrest or HIIT Nutrition black cocoa. They are honestly BOTH amazing in their own ways. I wish I could explain this better, but the dark cocoa gives a rich classic chocolate flavor and the black cocoa gives a cookies and cream like chocolate flavor.
Think of the cookie part of an Oreo… In gooey cake form. That is how the black cocoa tastes. Again, I get my black cocoa from from Amazon (Wincrest Black Cocoa) or HIIT Nutrition! I have yet to find this stuff in stores for whatever reason!
And the dark cocoa powder, well, this is simply how a normal rich chocolate cake would taste. So much rich chocolate punch. I LOVE THEM BOTH.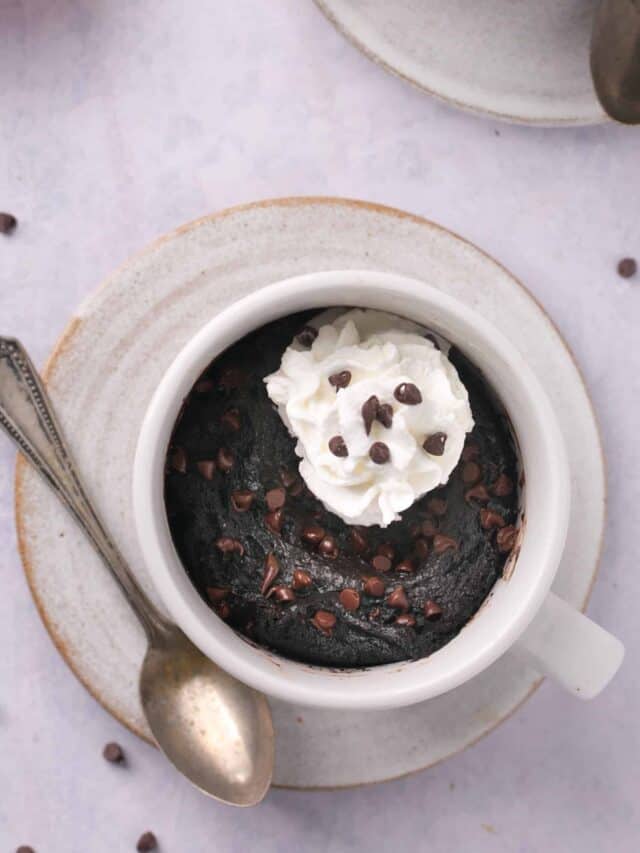 WANT TO MAKE THIS RECIPE?
If you try this protein lava cake and love it, please rate this recipe!
You can also tag me on Instagram, @LaurenFitFoodie. It makes my day seeing your yummy recreations!
Did you make this? If you snap a photo, please be sure leave a review, tag me on Instagram or TikTok at @LaurenFitFoodie or hashtag #LaurenFitFoodie so I can see your creations!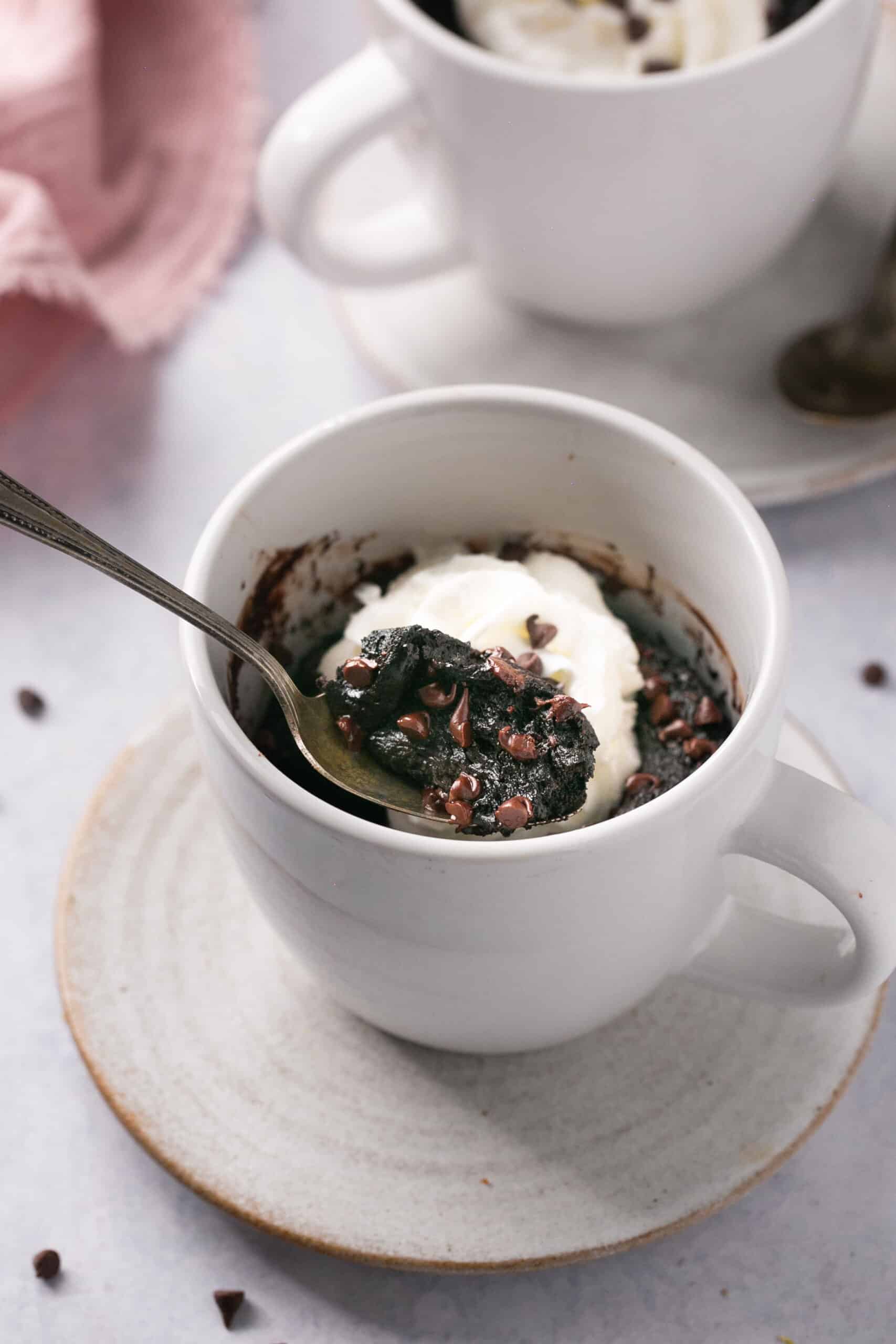 Protein Lava Cake (Single Serve)
This High Protein Lava Cake is the perfect dessert to quickly curve your chocolate cravings when your sweet tooth strikes! Made with a few staple ingredients and ready to eat in a minutes time, this microwavable chocolate cake will quickly become your new favorite dessert!
Ingredients
1/4

cup

vanilla protein powder

30g

2

Tbsp

dutch black cocoa or dark cocoa powder

10g

1

Tbsp

8g peanut butter powder (8g)

1

Tbsp

sugar free chocolate pudding mix

8g

1/2

tsp

baking powder

1/2

tsp

sweetener of choice

1/3

cup

unsweetened almond milk

90g

1

tsp

vanilla extract

1/2

Tbsp

mini chocolate chips- Use dairy-free if needed.
Before You Begin! If you make this, please leave a review and rating letting us know how you liked this recipe! This helps our business thrive & continue providing free recipes. Scroll for macros and MyFitnessPal code.
Instructions
In small bowl, add the protein powder, cocoa powder, peanut butter powder, pudding mix, baking powder and sweetener. Stir until combined.

Add the almond milk and vanilla and stir again until all ingredients are mixed thoroughly.

Spray a separate microwave safe bowl with cooking spray (you can skip this step if you don't care that the cake may stick a little). Add the chocolate batter and spread out evenly. Sprinkle with chocolate chips.

Microwave at a power level of 7 for 1-1:20 minutes. Cooking time with depend both on the size of your bowl and how gooey or you want it. You want to keep the middle gooey so it's like a lava cake!
Notes
MFP entry: Lauren Fit Foodie Molten Lava Cake
Nutrition Information
Serving:
1
cake
,
Calories:
248
kcal
(12%)
,
Carbohydrates:
22
g
(7%)
,
Protein:
32
g
(64%)
,
Fat:
6
g
(9%)
Nutrition is hand-calculated and accurate. No autocalulations! However, note that values can vary based on the brands you use and if you substitute ingredients.