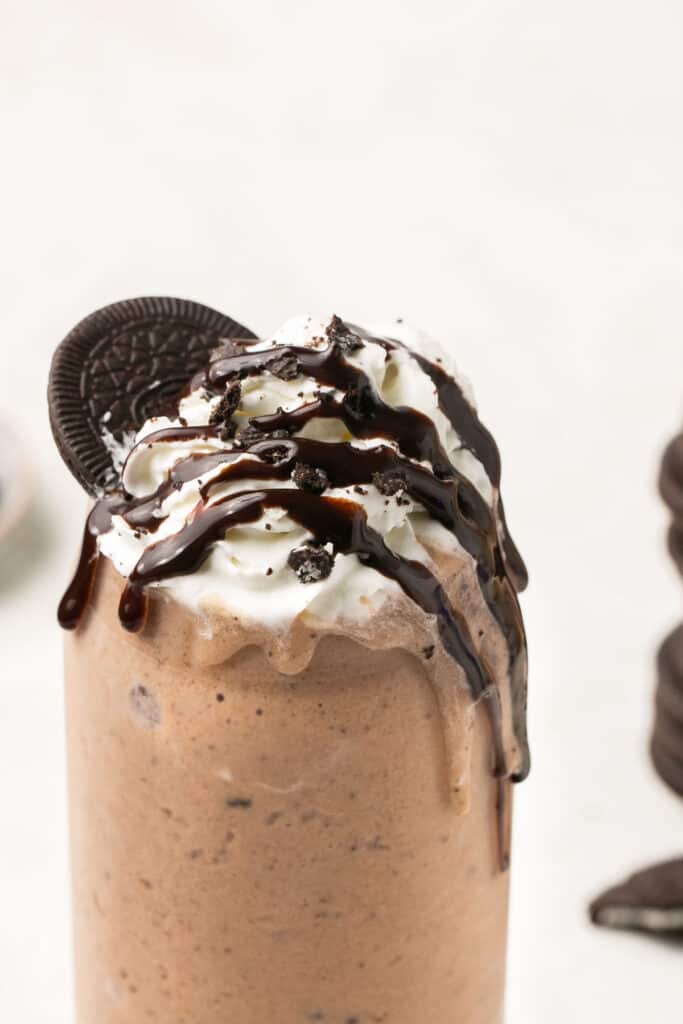 Ice cream and Oreos just BELONG together. This Cookies and Cream (AKA Oreo) Protein shake is what dreams are made of!! Tastes so indulgent and is such a treat! Enjoy with a spoon or a straw guilt free as this protein packed dessert has been tremendously lightened-up!
This Cookies and Cream (AKA Oreo) Protein Milkshake is the most amazing warm weather dessert treat!! Ok, but seriously. I made this last summer one night and I was OBSESSED. I then had it every night for months 😂. And ok… even into the fall and winter months too. So yes, that good where I am eating a COLD milkshake in the dead of winter when I am already bundle up in 5 layers. That's how you know it's good!
And the cooler part?! You guys love it just as much as I do! So much so that this is the number two most visited page on my blog (only just after the OG Protein Fluff😂). I guess you guys love your ice cream and milkshakes like me! Ha!
So this Cookies and Cream Protein Milkshake… it will make each one of your taste buds go CRAZY. It's luscious, creamy, rich, slightly crunchy and perfectly sweet!! Blended with ice, milk, black cocoa powder, real ice cream and few Oreo's for the perfect creamy (not icy!) texture. And then that's all topped with some cool whip (or whipped cream), crumbled Oreo's and chocolate syrup!!! The pairing is EVERYTHING!
Even better news? Guys, it is such a healthy balanced treat!! It is low calorie and makes a HUGE amount. And it's packed with protein to help fuel your body and repair those hard-working muscles! 👏🏼 So you can feel so good about drinking it!! SIP UP, FRIENDS<3
MORE HEALTHY COOKIES AND CREAM + OREO DESSERTS TO TRY
If you love Oreo desserts like me, don't forget to check out my other other lightened up desserts with Oreo's! Some of my favorite free recipes on the blog are the Healthy Cake Batter Oreo Protein Blondies, No Bake Peanut Butter Oreo Pie, Mint Oreo Protein Ice Cream, and Oreo Cookie Dough Bites!
If you are Fit Cookie Club member, there is also the Chocolate Chip Cookie Oreo "Slutty" Brownies (!!) Cookies and Cream Red Velvet Brownies, and Cookies and Cream Brownies to make. Which are 100% three of my all time favorite recipes! And if you're not already a Fit Cookie Club member, you NEEED to be just for those recipes alone!! They are all lightened up and with a boost of protein and the best part is that they don't even taste lightened up for SECOND!!! I am so not joking either. We do not play with dessert here 😉
On top of all the exclusive recipes you get by joining the Fit Cookie Club, you also get weekly meal plans delivered right to your inbox! With 6-8 recipes and always two brand new exclusive recipes every single week! These weekly meal plans also have example meal days showing you what a full day of eating might look like (and with example macros too!) And whenever I release a new collection (collections are like mini cookbooks) you also get those collections for free. Not convinced yet? Read more about all the insane perks of the Fit Cookie Club here.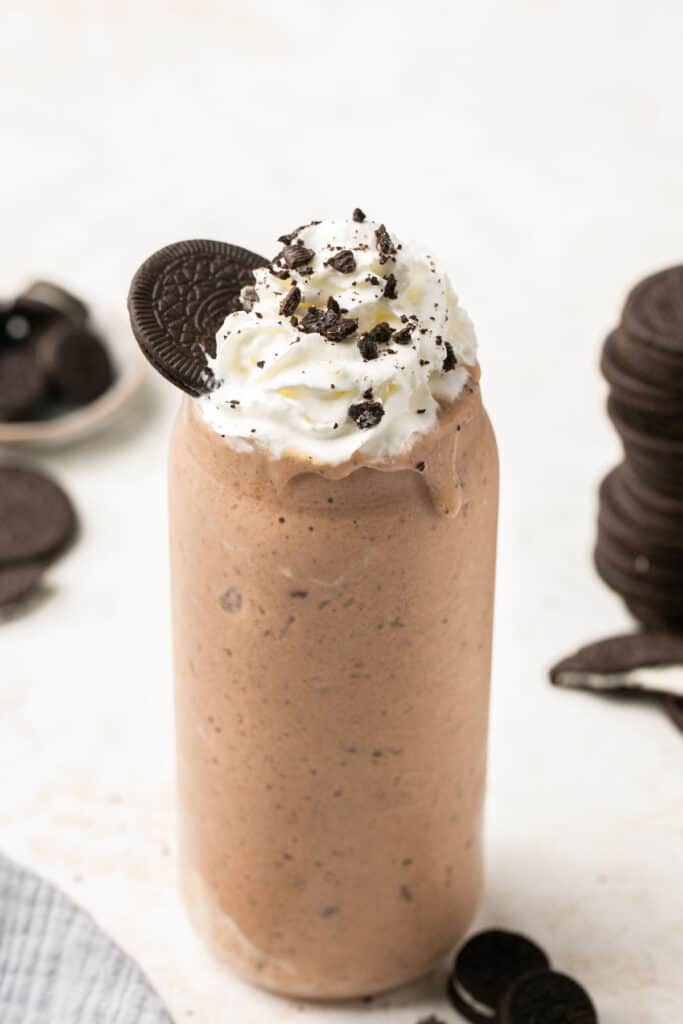 WHY YOU'LL LOVE THIS COOKIES AND CREAM PROTEIN SHAKE
Protein packed treat that fuels your body.
Low in calories and carbs! 🙌🏼
So much room for fun and yummy toppings. Yay, more Oreos!
Makes so much. Hellooooooo volume!
Amazingly thick milkshake texture.
INSANE cookies and cream flavor all throughout!!
COOKIES AND CREAM PROTEIN SHAKE INGREDIENTS
Protein powder – I used PEScience Cookies 'N Cream. If you don't have a Cookies 'N Cream flavor, no worries! A vanilla or neutral flavor will work just great! You can always add (more) crushed up Oreos to get as close to cookies and cream flavor as possible. Not all protein powders are the same, and since this is the MAIN ingredient of this milkshake, please make sure you use a good quality one and one that you actually like the taste of! For all Pescience products, you can use my affiliate code LaurenFitFoodie to save 10% off your purchase.
Ice cream – Who doesn't love ice cream? It's going to help make our milkshake nice and creamy. Just a little amount is needed and it goes a long way in this recipe! I highly recommend using Edy's Slow Churned French Vanilla ice cream but any ice cream works! If you're fresh out, you can sub for some half and half or coffee creamer in a pinch to help achieve that thick, delicious milkshake consistency.
Black cocoa – Not to be confused with normal cocoa, black cocoa brings some major cookies 'n cream vibes! I use Wincrest Black Cocoa or HIIT Nutrition Jet Black Cocoa.
Vanilla extract – Highlights and complements all of our delicious and sweet flavors!
Stevia – I use Better Stevia Liquid Drops.
Xanthan gum – Helps create thickness. I use Bob's Red Mill. You can omit if you want, it may just not get as thick.
Almond milk – You can also use cashew, oat, or whatever other milk you wish!
Ice – For the best consistency, make sure it's nice and fresh (AKA NO SUPER OLD ICE!)
HOW TO MAKE THIS COOKIES AND CREAM PROTEIN SHAKE
Add all ingredients (except the Oreo's) to blender.
Blend until ice is broken up and you have a smooth milkshake texture.
Add half the Oreo's; pulse to slightly break up.
Pour into glass or bowl, top with remaining Oreo's, and enjoy!
Depending on your blender, you may need to shake it around or stir the ingredients with a spoon to make sure all the ice is broken up. Do this until you achieve your desired consistency.
TIPS FOR THE BEST CONSISTENCY
Use a good quality blender – I used a Ninja IQ for this recipe. I am not saying you need that exact blender. Obviously, use what you have and try to make it work. But I will say that the appliance you use does matter here. You need a blender or food processor that is strong enough to break the ice up. Otherwise, the consistency of your milkshake will be off.
Use fresh ice – It breaks up and blends better than old ice! Older ice does not break up as well and it's going to result in a more icy milkshake.
Measure your ingredients – No you don't need to buy a food scale, but it really makes life so much easier! You don't have to use and wash measuring cups and spoons– you just zero the scale, add the ingredient and repeat for the next ingredient! I have a Large Platform Kitchen Scale that I use and love. If you don't need one that big, this smaller (and cheaper) Kitchen Scale does just the job! The ratio of ingredients is important for overall consistency and the digital scale helps so much. But if ya don't have one, don't sweat it, just do your best to make sure you add the right portions!
Use a good quality protein powder – Not all protein powders blend equally. So you make sure you know the one you use blends well! AND one that you like the flavor of because that is going to be the main ingredient in this recipe. I used PEScience Cookies 'N Cream. But you can definitely use normal vanilla or cake pop. I usually don't recommend chocolate protein in blended drinks because it doesn't blend as well (still not sure why this is, it just doesn't! So if you ever want a chocolate shake, use vanilla protein powder and add cocoa). But love PEScience. It doesn't have a weird protein taste and brings an amazing texture to the milkshake (and whatever it's used for that matter). Use code Laurenfitfoodie to save 10%.
Use Xanthan gum – You could technically omit this, but if you have it on hand, go ahead and add a little! It helps a ton with achieving the milkshake thickness we are looking for. I would stick to 1/4 tsp, though. Anything more and things start to get weird!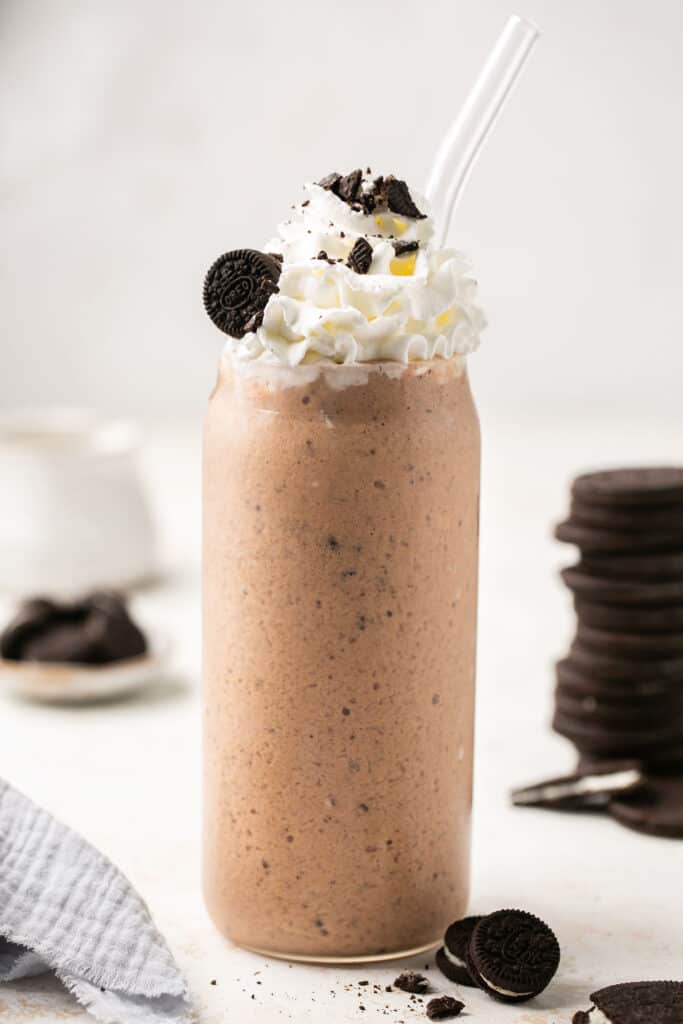 COOKIES AND CREAM PROTEIN SHAKE TOPPINGS & MIX INS
Chocolate syrup – I mean of course!!!
Oreo's – Toss on more Oreos or crumble up another cookie of your choice!
Cool Whip – I LOVE adding Cool Whip to add creaminess! Reddi Whip and marshmallow fluff are also delicious.
Black Cocoa – Stirring in a little more black cocoa makes magic happen! I am so not kidding. TRY IT.
Oreo pie crust – a little goes a long way with this stuff for cookies and cream texture with lower calories than adding straight Oreo's.
Peanut butter powder – Sprinkle on or blend in some peanut butter powder to make this a peanut butter Oreo flavored shake! Total Parent Trap vibes. And we're here for it 🤩
Oreo Balls – You SERIOUSLY must try my No-Bake Oreo Protein Balls! Topping your milkshake with these makes it even more indulgent. Like for-real, cannot recommend this enough!
Oreo Protein Cookie Dough – Top with my Oreo Protein Cookie Dough, crumbled up on top. Cookies and cream milkshake AND cookies and cream cookie dough? I mean, things are getting wild!!!
Chocolate Chip Cookies – not dough but actual COOKIES mixed in! 😍 I love crumbling up and adding some of my Healthy Chocolate Chip Cookies when I have some made. It's like cookies and milk but better!!
Chocolate Covered Cookie Dough Squares – I started adding pieces of my Chocolate Covered Cookie Dough Squares to the shake this year and oh my heavens!! It may be my favorite mix in yet. I just let them defrost from the freezer for 10 or so minutes then chop them up into tiny squares and mix them in!
Cereal – Top your milkshake with your favorite cereal for a crunch! Oreo O's, Cocoa Pebbles, fruity pebbles, Cinnamon Toast Crunch, there are no wrong answers here!
MORE HEALTHY AND PROTEIN-PACKED FROZEN DESSERTS
WANT TO MAKE THIS RECIPE?
If you try this cookies and cream shake and love it, please rate this recipe!
You can also tag me on Instagram, @LaurenFitFoodie. It makes my day seeing your yummy recreations!
Did you make this? If you snap a photo, please be sure leave a review, tag me on Instagram or TikTok at @LaurenFitFoodie or hashtag #LaurenFitFoodie so I can see your creations!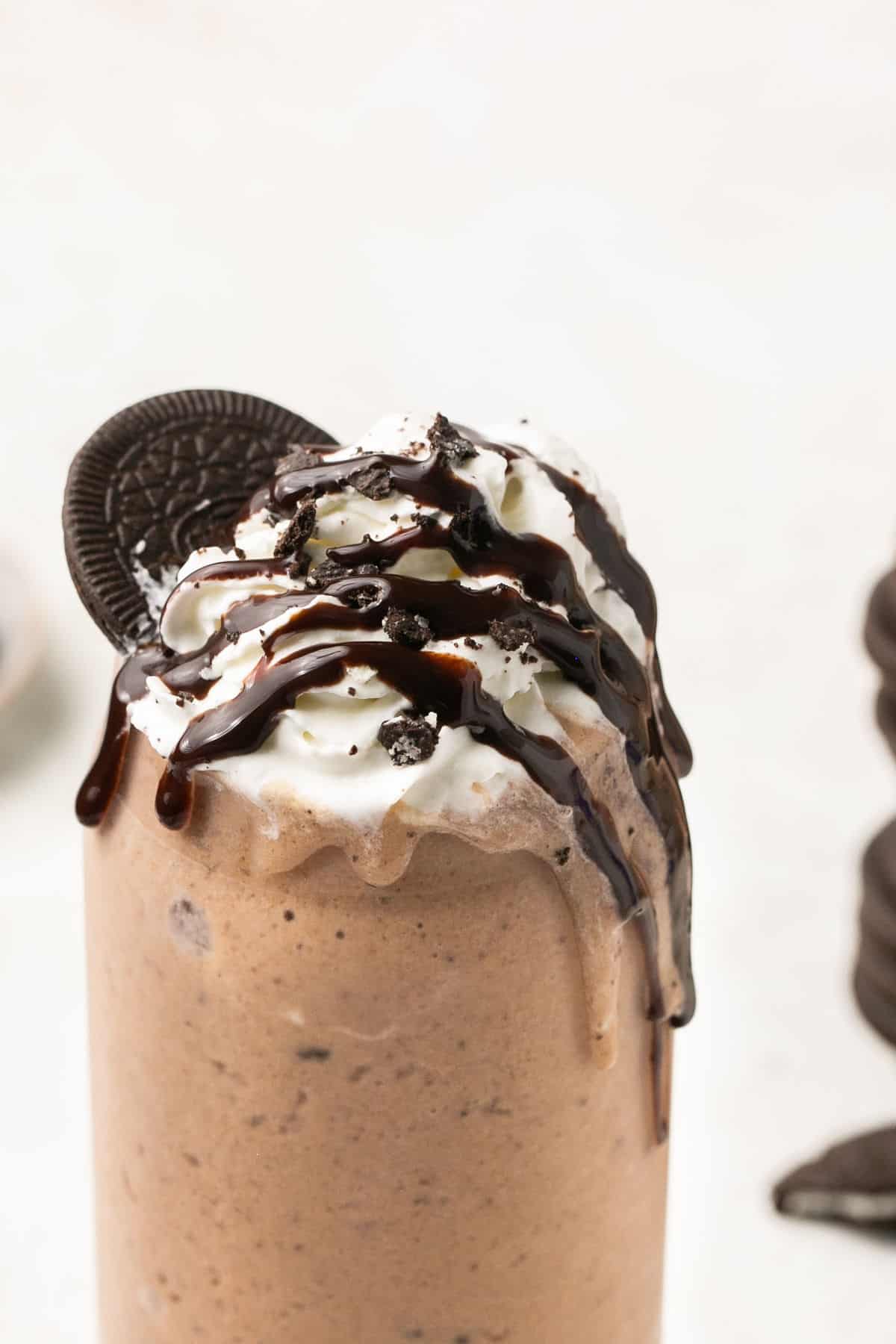 Cookies and Cream Protein Milkshake
Ice cream and Oreos just BELONG together. This Cookies and Cream (AKA Oreo) Protein Milkshake is what dreams are made of!! Tastes so indulgent and is such a treat! Enjoy with a spoon or a straw guilt free as this protein packed dessert has been tremendously lightened-up!
Ingredients
1

scoop Cookies & Cream or Vanilla protein powder

32g

3/4

cup

unsweetened vanilla almond milk

180g – or other milk of choice

200

g

ice cubes

3

Tbsp

vanilla ice cream

45g – I used Edy's Slow Churned French Vanilla

1

Tbsp

black cocoa powder

5g

5

Oreo mini cookies or 2 Oreo Thins

separated (16g)

1

tsp

vanilla extract

1/4

tsp

Xanthan gum

1/8 to 1/4

tsp

liquid stevia

to taste
Before You Begin! If you make this, please leave a review and rating letting us know how you liked this recipe! This helps our business thrive & continue providing free recipes. Scroll for macros and MyFitnessPal code.
Instructions
Add all the ingredients (except the Oreo's) to your blender. Blend until smooth. I used a Ninja IQ for this. If using another blender, just make sure it is one that is powerful enough to crush the ice!

Taste the milkshake. If it needs more sweetness, add more stevia. If it needs to be thinner, add more milk. If it needs to be thicker, add 2-3 ice cubes. Blend again until desired consistency is reached.

Add half of your Oreo's and pulse just a few times. You don't want to break the cookies up completely.

Transfer to a large glass or bowl (room for more toppings!) Top with remaining Oreo's and whatever else sounds good and sip up!

My favorite go-to toppings: crumbled Oreos (or crumbled Oreo cookie pie crust), black cocoa, cool whip and chocolate syrup! Other yummy topping ideas: whip cream, sprinkles, PBFit, cereal, no-bake desserts, cookie dough, see more ideas above in post).
Notes
MFP entry: LFF Cookies and Cream Protein Milkshake
Nutrition Information
Serving:
1
shake
,
Calories:
290
kcal
(15%)
,
Carbohydrates:
26.6
g
(9%)
,
Protein:
28.8
g
(58%)
,
Fat:
9.4
g
(14%)
,
Trans Fat:
2.7
g
,
Fiber:
3.1
g
(13%)
,
Sugar:
16.6
g
(18%)
Nutrition is hand-calculated and accurate. No autocalulations! However, note that values can vary based on the brands you use and if you substitute ingredients.