published: Nov. 21, 2020
updated: Oct. 26, 2023
4 Comments
About This Recipe
We have stumbled upon another winner you guys! I can't even tell you how much I love this dish. IT IS SO GOOD. This was one of those recipes where my eyes just about popped out of my head the second I first tried it.
I am not joking when I say it tastes like Thanksgiving in your mouth! Just like your "typical" stuffing, and don't tell my mom I said this, but I think I may like my version more… 😂
To lighten this dish up, I opted on sautéing the onions and celery in cooking spray instead of butter. Then as the name suggests, I used spaghetti squash as the base to bulk this bake up as opposed to just using more of the stuffing mix to create the same amount.
I also add cream cheese and cottage cheese to bring a special delicious creamy, cheesy flavor to this recipe. And even with all these macro hacks, I'm telling y'all – this bake tastes like the real deal!
Want more cheesy goodness? Try my Three-Cheese Tuscan Spaghetti Squash Bake or my classic Baked Spaghetti Squash Casserole. If you like a bit of heat, definitely check out my Buffalo Chicken Spaghetti Squash Casserole!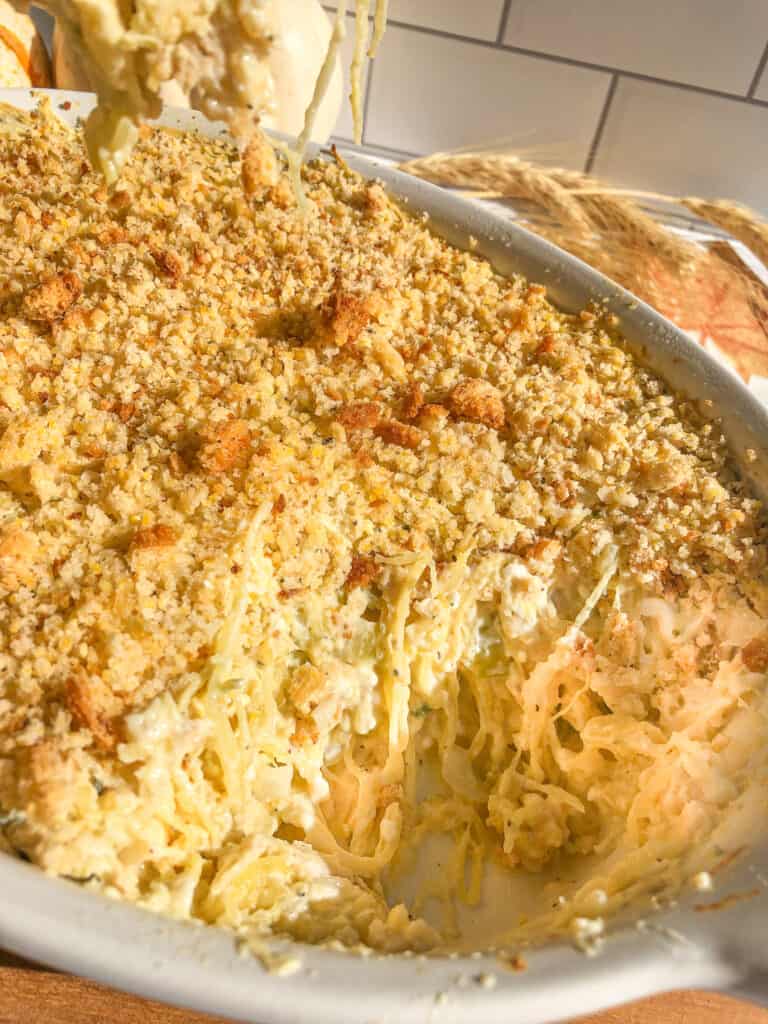 Why You'll Love This Spaghetti Squash Stuffing Bake
It tastes like the REAL deal. Even better in my opinion, because cheese.
The whole family will love it!
Super low in fat, especially compared to traditional stuffing recipes.
Packed with protein and fiber.
It is easy to double the recipe if needed for big groups.
Great recipe to meal prep.
Spaghetti Squash – I used a large spaghetti squash and got about 5-6 cups (700g) from it once baked. Check out these 3 easy ways to cook spaghetti squash! 
Onions and celery
Cornbread stuffing
Cream cheese – I used fat-free to keep this dish lighter. But if you can't find fat-free or just want to use something else, 1/3 reduced fat or full-fat cream cheese would work.
Cottage cheese
Egg
Cornstarch – helps thicken the bake.
Ranch seasoning – not necessary but I love the flavor it brings!
Spaghetti squash – I thought about using other vegetables when deciding what I was going to use for the base of this dish, but honestly I think spaghetti squash is the best choice here! The texture and flavor of the squash are part of what makes this dish taste so good. I haven't tried it with anything else, but I think cauliflower rice would be a good substitute if needed.
Cottage cheese – I like it best with cottage cheese but plain nonfat greek yogurt would work as well.
Corn starch – this helps in thickening the bake. If needed, you could sub with all-purpose flour or arrowroot starch.
Fat free cream cheese – reduced fat cream cheese or Greek cream cheese would also work!
Ranch seasoning – this seasoning adds so much flavor and I love using it. If you don't have any on hand though, you can always sub with a combination of salt, garlic powder and onion powder.
How To Cook Spaghetti Squash
This baked spaghetti squash casserole truly is so easy! The hardest part is just getting your spaghetti squash cooked and shredded – besides that, everything else comes together relatively quick and easy.
If you aren't sure the best way to cook your spaghetti squash, check out these 3 easy ways (oven, air fryer, microwave) to bake and shred your squash. I will usually do this the night before so I have the strands ready to go.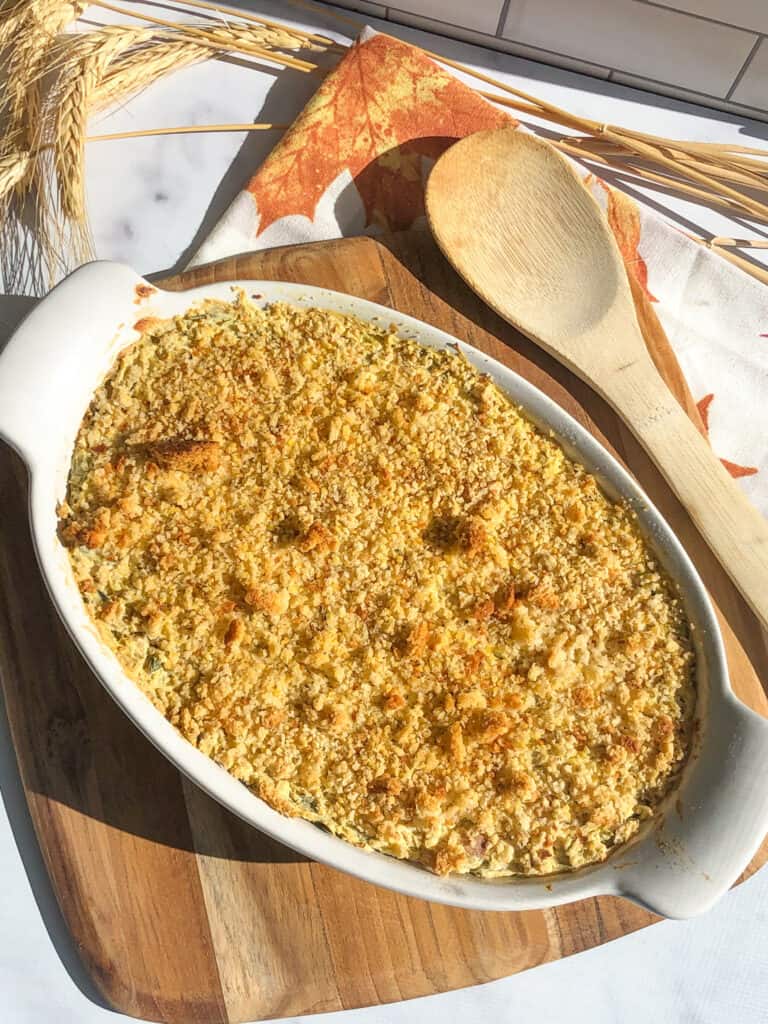 Why is my spaghetti squash casserole watery?

Be sure to not overcook your spaghetti squash as this can cause it to be watery and add too much liquid to the dish. I like to bake my spaghetti squash until it is just barely done (able to shred with a fork) because it will continue to cook in the oven with the dish. This prevents overcooking and the casserole turning out watery.
Can I freeze this spaghetti squash stuffing bake?

Yes! This is a great casserole to freeze. Just let it come to room temperature, then store it covered or in a plastic container for up to 3 months. To reheat, let it defrost in the fridge overnight then reheat in the oven at 350F for 20-30 minutes, or until the center is warm and the casserole is bubbling again.
Can I make this spaghetti squash stuffing bake gluten-free?

Yes, to make this stuffing bake gluten-free just be sure to use gluten-free stuffing mix!
More Spaghetti Squash Recipes You'll Love
Did you make this? If you snap a photo, please be sure leave a review, tag me on Instagram or TikTok at @LaurenFitFoodie or hashtag #LaurenFitFoodie so I can see your creations!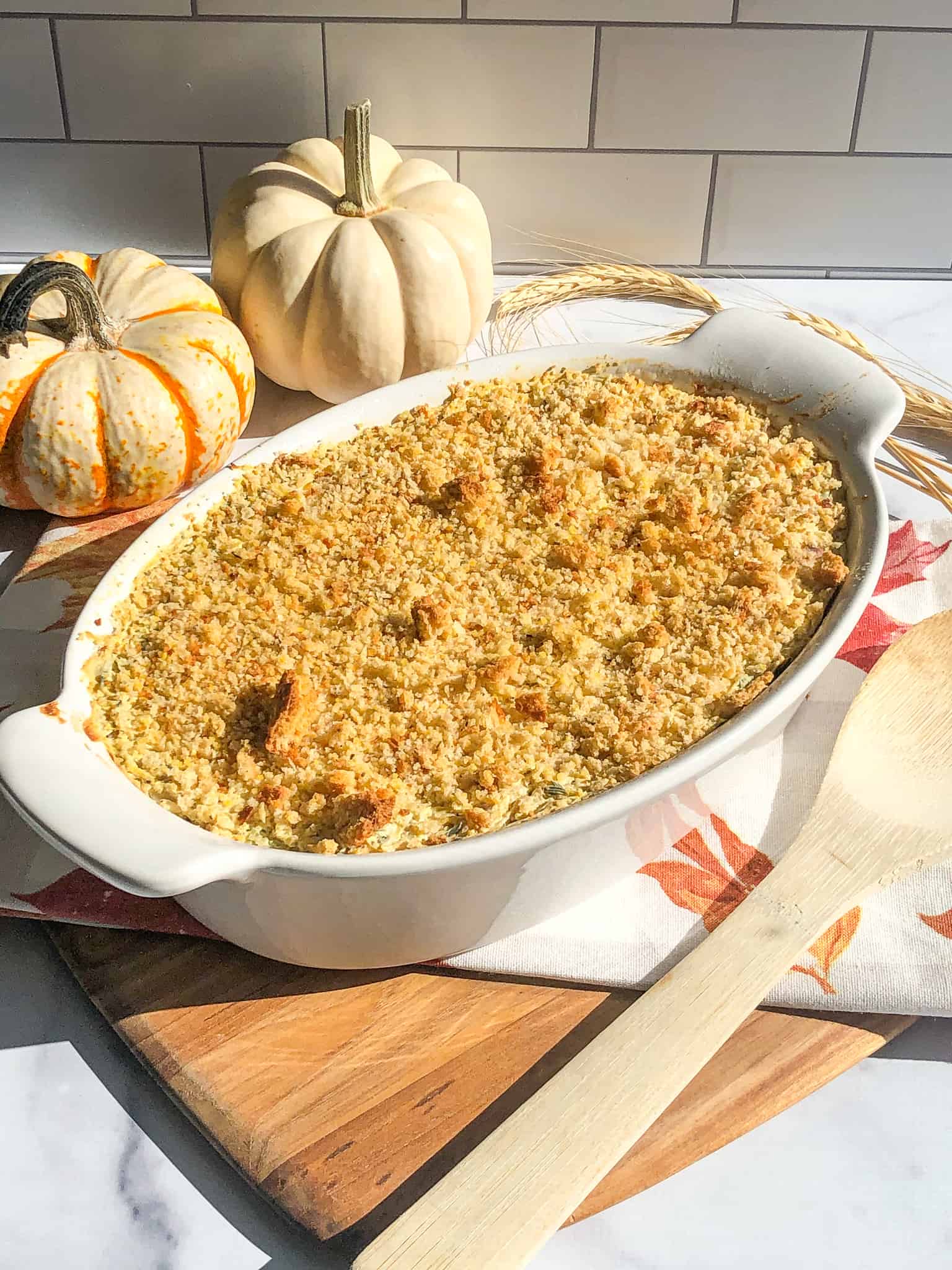 Skinny Spaghetti Squash Stuffing Bake
All the delicious flavors of your mama's homemade stuffing but lightened up! This Skinny Spaghetti Squash Stuffing Bake is a REAL treat. A perfect side dish to serve with dinner that the whole family will love, and I can guarantee you, no one will believe that it's healthy for a second!
Ingredients
Spaghetti Squash Stuffing :
1

medium spaghetti squash (700g)

cooked and shredded

1

small yellow onion (180g)

diced

3

celery stalks (150g)

diced

8

oz

fat free cream cheese (226g)

1

large egg

1/2

cup

low-fat cottage cheese (113g)

3

tbsp

ranch seasoning (23g)

1

tsp

salt

1/2

tsp

pepper

1

tbsp

corn starch

1.5

cup

corn bread stuffing (87g)
Topping:
1/2

cup

corn bread stuffing (29g)
Before You Begin! If you make this, please leave a review and rating letting us know how you liked this recipe! This helps our business thrive & continue providing free recipes. Scroll for macros and MyFitnessPal code.
Instructions
If spaghetti squash still needs to be cooked, do that first. Slice in half lengthwise and scoop out seeds. Spray with cooking spray, sprinkle with salt and pepper and lay face down on a baking sheet lined with aluminum foil. Bake on 400 °F for 30-40 minutes. When done, let cool before scooping spaghetti strands out.

Preheat oven to 350 °F. Spray a small casserole dish with cooking spray. I used a 9.5 x 6.5 inch dish (1.5 quart)

Spray a large skillet with cooking spray and set to medium-high heat. Add the onion and celery and saute until onions start to brown, about 5 minutes.

In a large mixing bowl, add the spaghetti squash, onion, and celery.

In a separate medium sized bowl, add the egg and cream cheese. Mix with a hand mixer until creamy. Add cottage cheese, ranch seasoning, salt, pepper and corn starch and mix again.

Fold the cream cheese mixture into the spaghetti squash bowl using a wooden spoon until all is combined. Then, fold in the corn bread stuffing.

Add the spaghetti squash stuffing to the casserole and spread out evenly. Sprinkle with cornbread stuffing and bake in oven for 30 minutes.
Notes
How To Cook Spaghetti Squash:
There are several easy ways to cook spaghetti squash. You can bake it in the oven, cook in the microwave or air fry it. I personally love roasting it in the oven (if I have time) because I think it brings about the best flavor but truly any work! I also like to cook and shred my squash the night before if I have time to make this casserole prep even easier!
Nutrition Information
Serving:
1
/8 of dish (238g)
,
Calories:
148
kcal
(7%)
,
Carbohydrates:
25
g
(8%)
,
Protein:
9
g
(18%)
,
Fat:
1.5
g
(2%)
Nutrition is hand-calculated and accurate. No autocalulations! However, note that values can vary based on the brands you use and if you substitute ingredients.