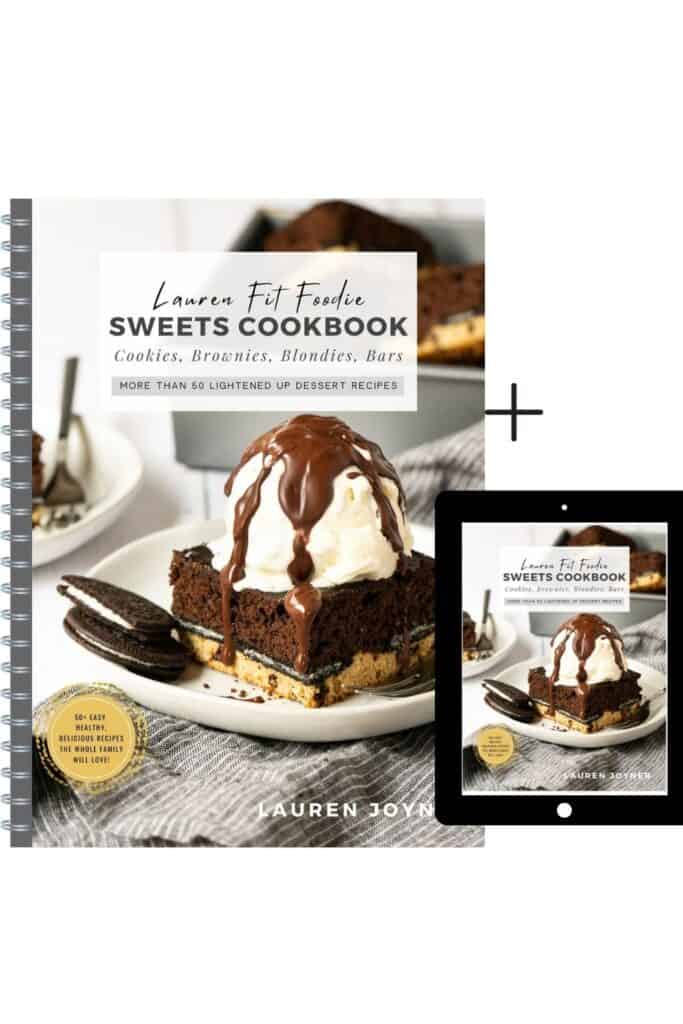 It's time to celebrate the launch of my new sweets cookbook, Lauren Fit Foodie Cookies, Brownies, Blondies, and Bars! It's full of delicious desserts everyone will enjoy—and they're all lightened-up and healthier than their traditional versions. Enjoy these sweet treats whenever, wherever, and without guilt!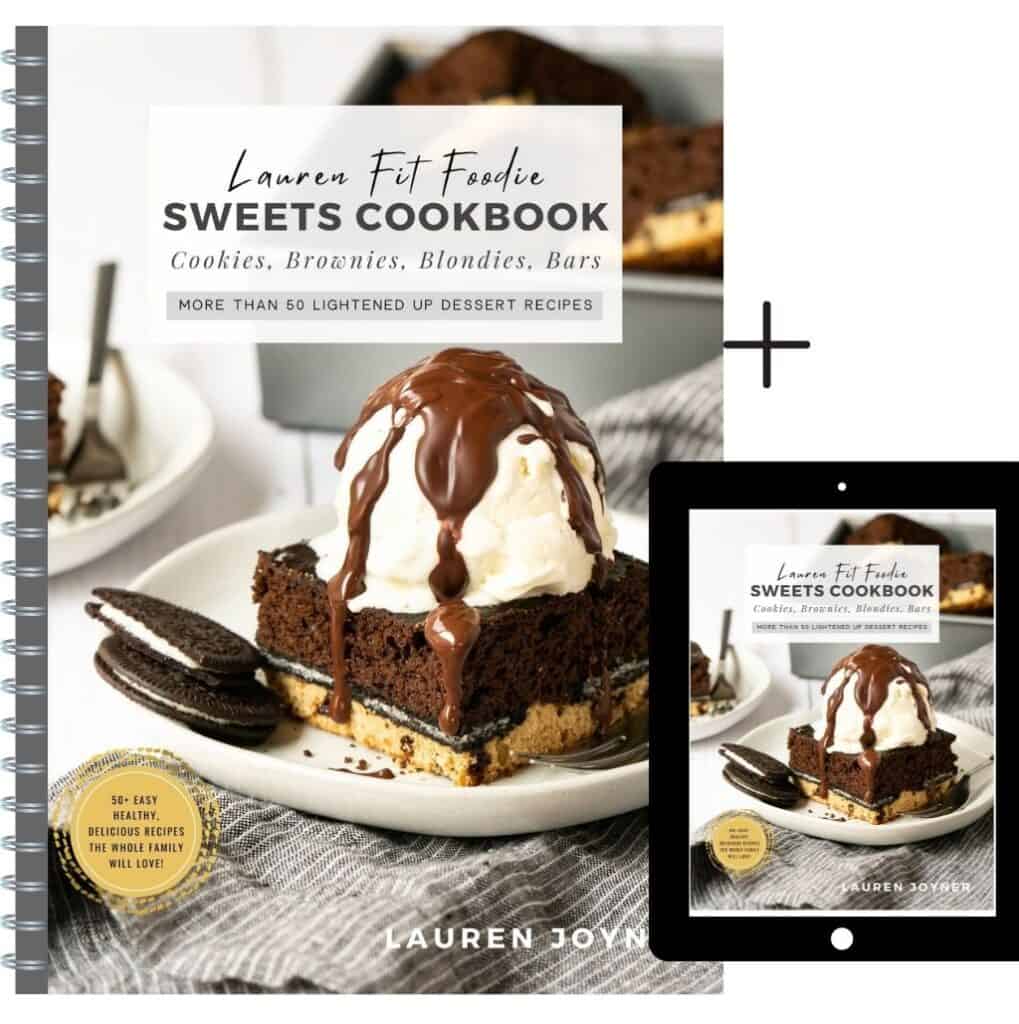 It's here! My newest cookbook (and my second sweets cookbook), Lauren Fit Foodie Cookies, Brownies, Blondies, and Bars, has arrived! Just like the title suggests, this cookbook is filled with all kinds of cookies, brownies, blondies, and bar recipes!
Each recipe is a lightened-up and healthier than its traditional version—but don't let that scare you. I promise, NONE of these recipes sacrifice ANY delicious taste! It was incredibly important to me to fill this cookbook with delicious dessert recipes that the whole family would love (even those picky eaters), but made healthier so you can feel good about eating them. After all, sweets ARE a necessity!
Regardless of what your health and fitness goals may be, I am firm believer in incorporating food you LOVE. In my opinion, it's one of the most important parts of any diet. Not only does it help with adherence because there is no "cheating" when you are including things you love, but it also helps get your head out of the restriction mindset of "I can't have this cookie or those delicious brownies my family is eating." YES you most definitely can! You can have dessert every day and after every meal with the desserts in this cookbook if you wanted to! Technically speaking, you can have any kind of dessert and still stay on track, but with these lightened-up and healthier options, you can have more. Why have one real brownie for 300 calories when you could have 3 lightened-up brownies for 300 calories? 🙌🏼
I've already shared some teasers with my Top 5 favorites series from the cookbook. If you're dying to see more (or are wondering if it's the cookbook for you), let's take a look at the desserts you can expect to find in this book! 😉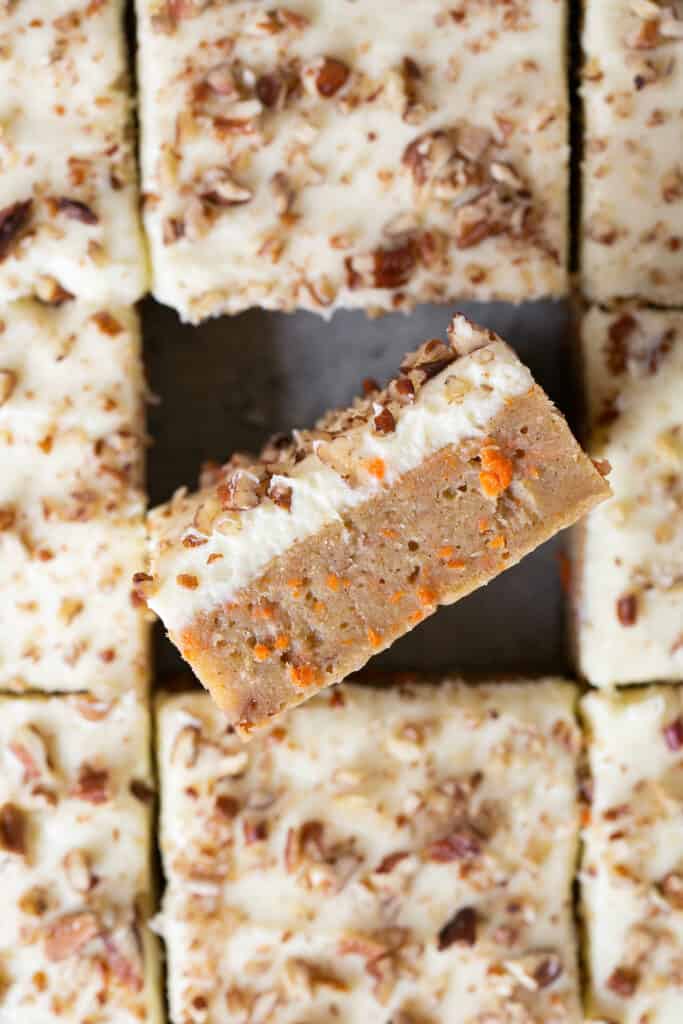 MY TOP 5 FAVORITE SWEETS COOKBOOK RECIPES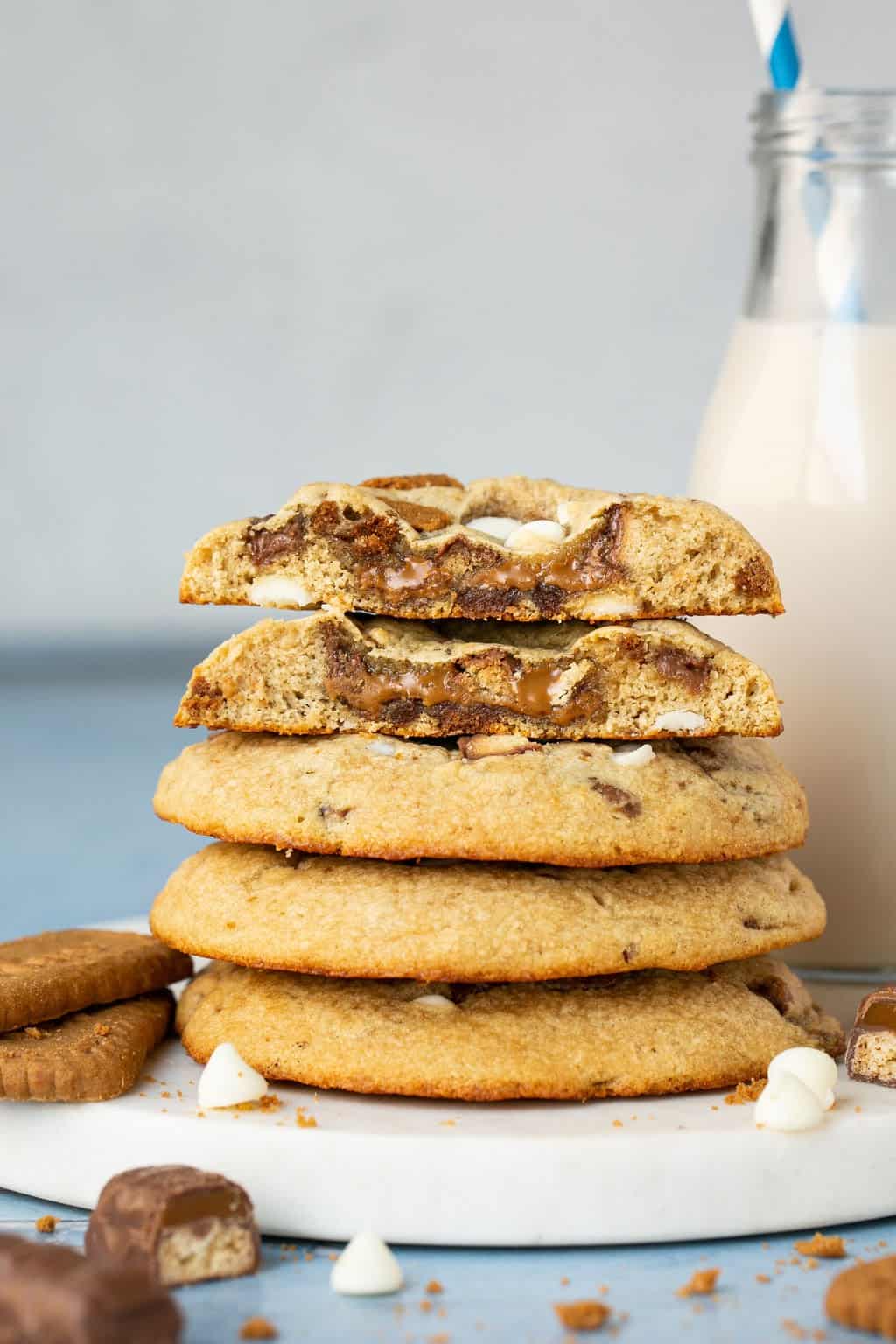 FEATURES OF THIS SWEETS COOKBOOK
There's 52 easy, healthy, and delicious dessert recipes!
Every recipe in the book is lightened-up from their traditional versions!
You get to choose from a WIDE VARIETY of cookies, brownies, blondie, and bars.
Macros are provided for each recipe so you can incorporate these delicious treats into your health and fitness goals.
ALL recipes are already in the My Fitness Pal database. All you have to do is search and log!
I've compiled a list of commonly used ingredients for you here.
The cookbook includes a substitutions page where you can get information on what can be subbed and what I don't recommend subbing.
You'll find a sugar substitute page that discusses why I love Swerve sweetener and why I choose not to include it when calculating macros.
There's GLUTEN-FREE AND VEGAN MODIFICATIONS for many recipes! I also recommend gluten-free and vegan products that I've found successful in recipe testing.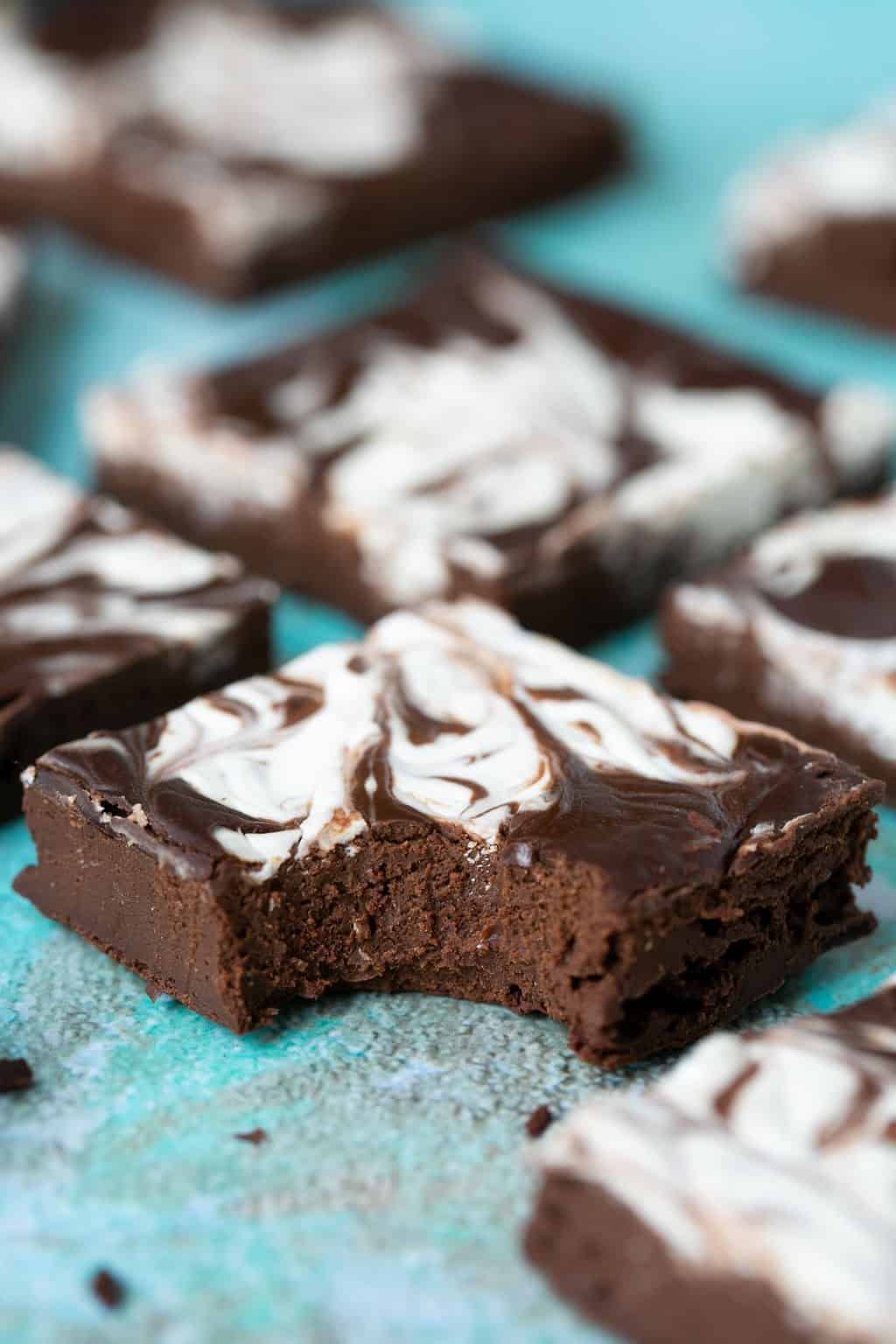 HEALTHY, LIGHTENED UP, MACRO-FRIENDLY DESSERTS
I've created a lightened-up version of each of these desserts in one or multiple ways to keep calories down. How did I achieve this? By using less "unhealthy" ingredients like butter and flour, and swapping in healthier alternatives like Swerve granular sweetener or fat-free cream cheese.
Even if you need to make some substitutions like using real butter instead of light butter, each recipe still calls for significantly less of those ingredients than their traditional versions. This way, they're still lower in calories!
FOR THE MACRO TRACKER AND NON MACRO TRACKER
This sweets cookbook is for BOTH the macro tracker and the non-counter. If you track, I've made these recipes super easy to do so! Not only do I provide the ingredients in grams, but I provide the serving size is as well. And they're all loaded into the My Fitness Pal database for easy logging.
If you don't track macros, no worries! You will still enjoy this cookbook! You not tracking does not change that this is a wide collection of lightened up, healthier dessert recipes that you can enjoy without guilt!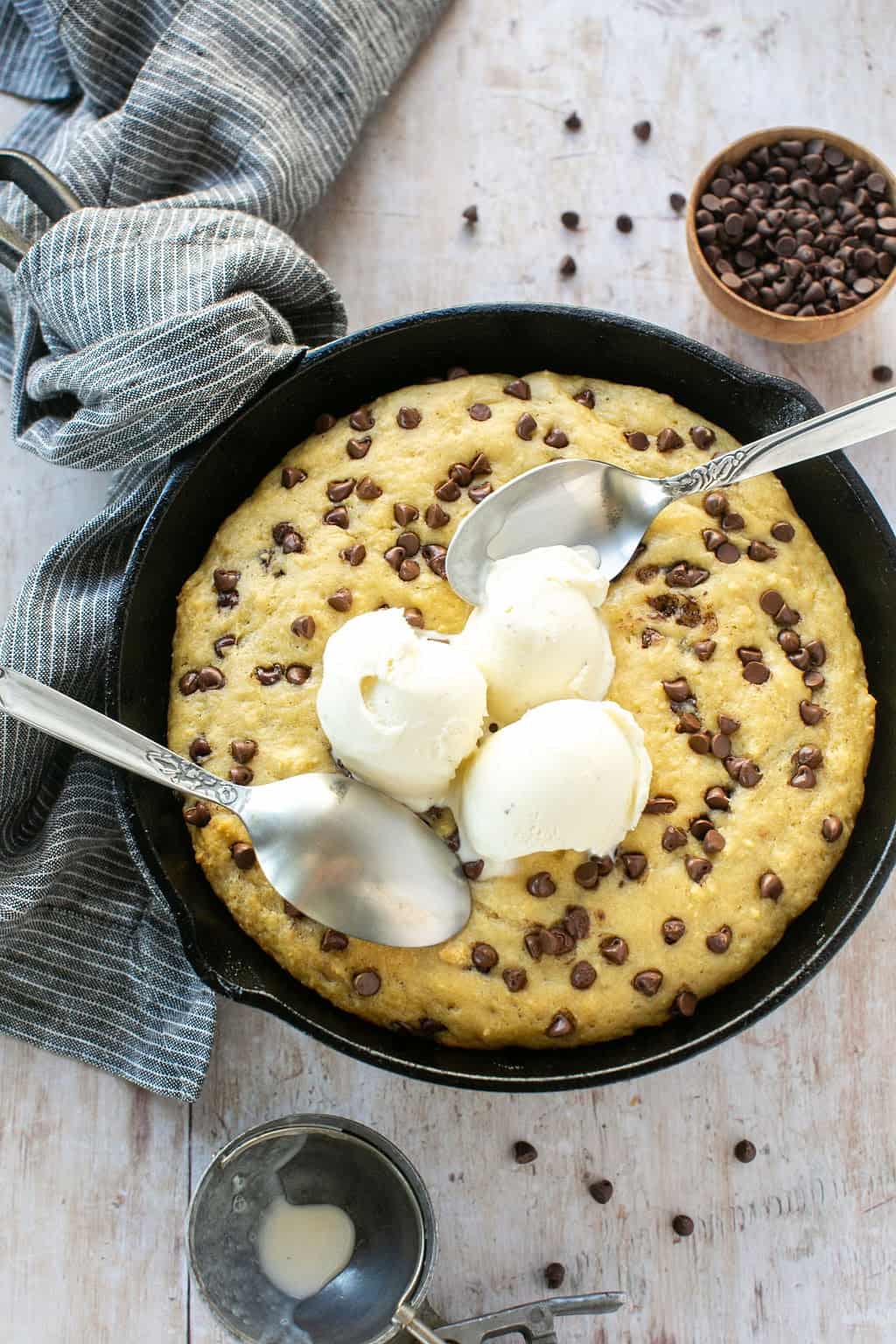 EASY TRACKING WITH MY FITNESS PAL
One of the best parts about this cookbook? I've done all the hard tracking work for you! And I've tested and calculated each recipe three times to ensure as much accuracy as possible.
You'll find the nutrition facts for each recipe are preloaded into the My Fitness Pal database, so all you have to do is search for the recipe name (which is provided in the cookbook) and log it!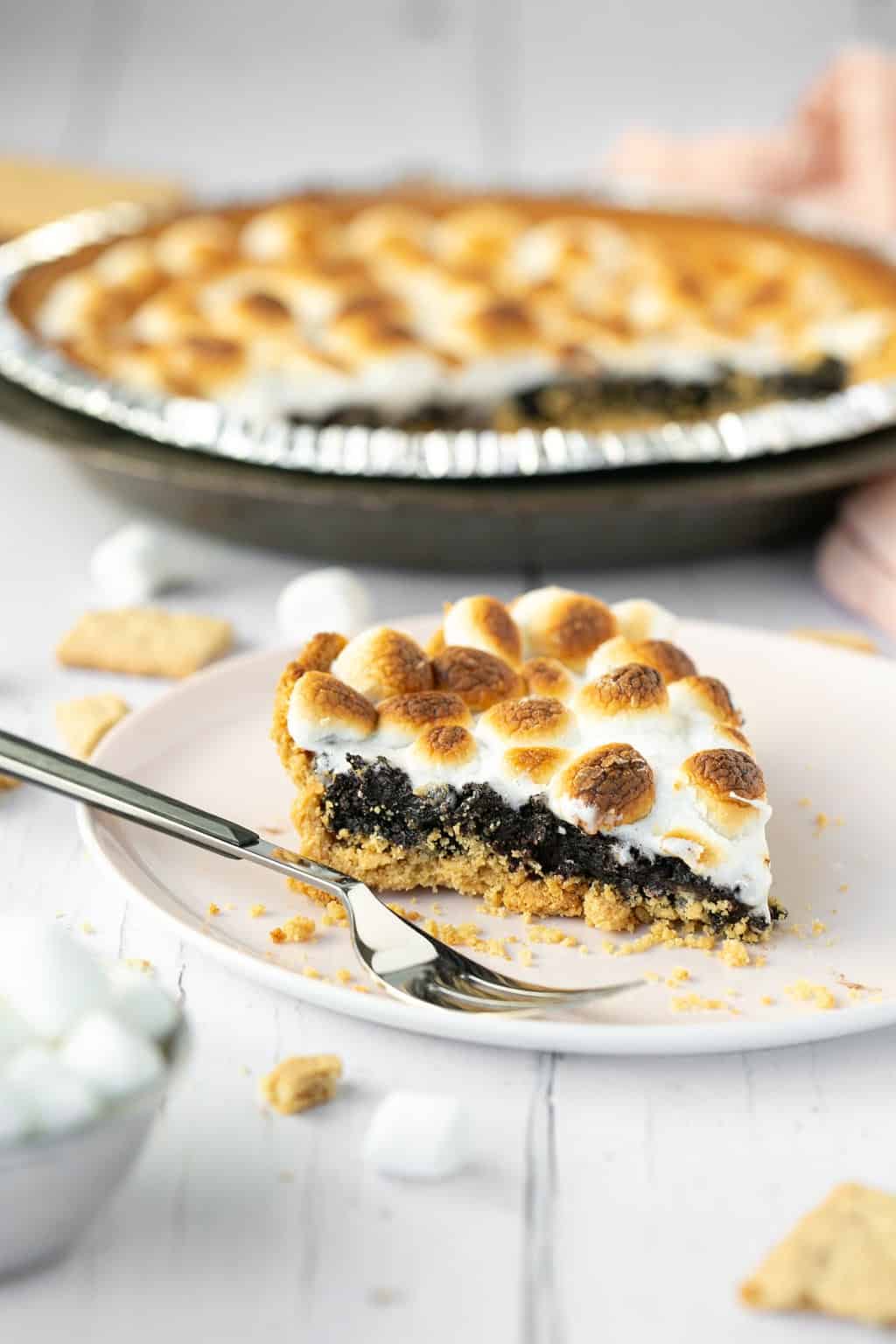 FREQUENTLY ASKED QUESTIONS
Are the recipes in this book brand new or already on your blog?

With the exception of two recipes, each recipe in this book was developed specifically for this cookbook! I have shared the Chocolate Chip Brownie Batter Stuffed Cookies and my Top 5 favorites here on the blog as teasers, but besides those, the rest of the recipes will remain exclusive to the cookbook.
Are the macros listed for each recipe?

Yes! Macros are included for EVERY recipe!
Do these recipes call for any hard-to-find or specialty ingredients?

Nope! All of the ingredients should be easy to find in your grocery store. There are no off the wall brands or products or anything. You should be able to find the ingredients even if you live in a country outside of the US!
I am gluten-free. Will I be able to make the recipes?

Absolutely! Most all the recipes in this book can be made for a gluten-free diet. I give gluten-free modifications in the notes section of every recipe that has been successfully tested with gluten-free ingredients
What recipes are included in this cookbook?

For a full list of all the recipes in the book, see the Table of Contents below!
What's your favorite recipe from the cookbook?

Oh man. It was so hard to choose, but my favorite are the Mississippi Mud Brownies!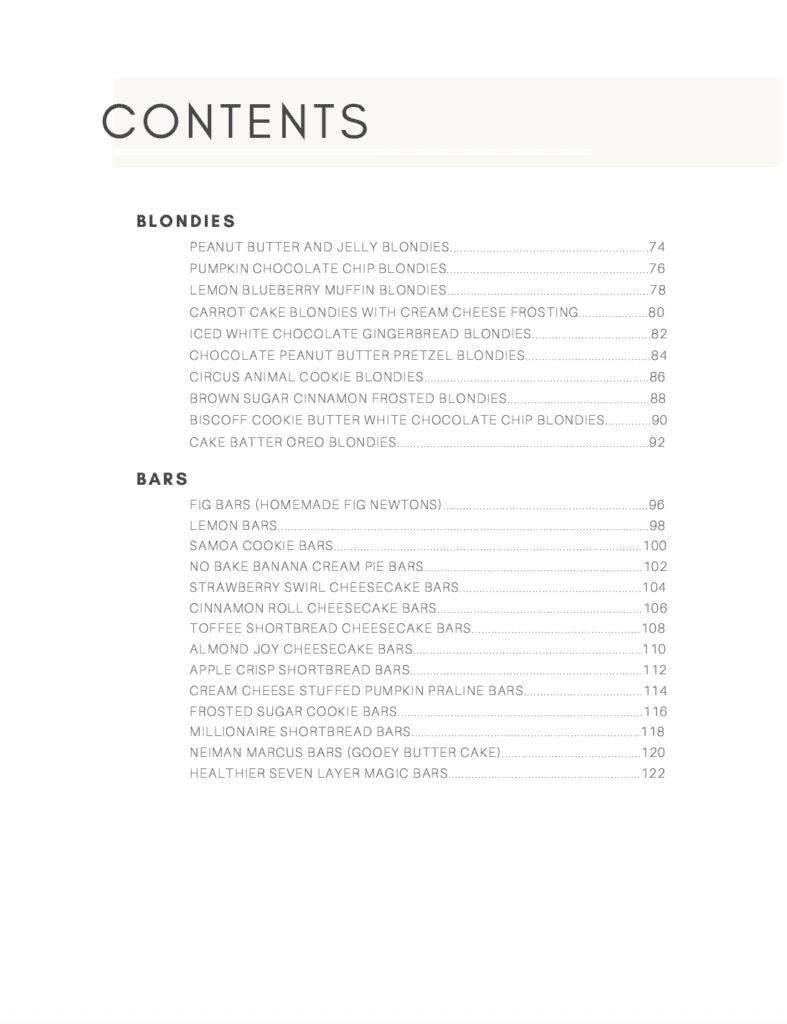 SNAG YOUR COPY AND START BAKING!
Snag your copy of this healthy dessert sweets cookbook here!
I hope you enjoy friends! 🙂
Xo, Lauren