published: Sep. 17, 2019
updated: May. 17, 2021
Comments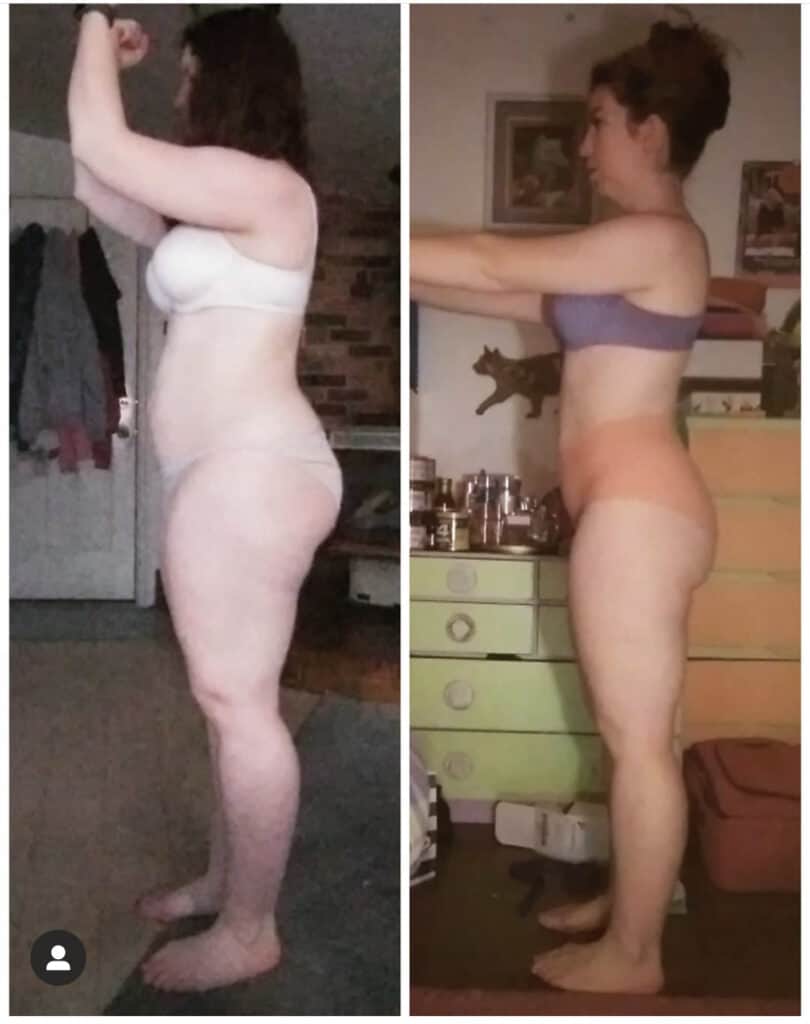 1:1 COACHING CLIENTS
After trying for years to find the right balance of food and activity so that I could lose weight, I finally decided to hire a nutrition coach. I had followed Lauren on social media for a while, and I knew she was the person I wanted to work with. I appreciated her perspective on fitness, nutrition, and health and felt like I could learn so much from her. With Lauren's background in nursing and exercise science, in addition to her nutrition and personal training certification, I was confident she would bring loads of valuable knowledge and experience to the table. I felt sure I could trust her to make recommendations that would not only help me reach my goals but would also prioritize my health and well-being.
Working with Lauren has been everything I hoped for and more! Her advice, encouragement, feedback, and knowledge has been phenomenal. Over the months we have worked together, Lauren guided me through a cut and a reverse diet, helping me reach my goals and find a sustainable maintenance range. Weekly accountability, the opportunity to ask questions and share my concerns, and the personalized feedback I received were all key. She not only helped me reach my weight loss goals and get the leanest I've ever been, I was able to maintain muscle mass while I was cutting calories and keep biofeedback positive throughout. This was the best I have ever felt while on a diet in my life.
As amazed and grateful as I am for all the physical changes I've seen while working with Lauren, it's the mindset changes that really stand out as the biggest transformation. Through our weekly check-ins and email conversations, I learned so much about how to approach everyday meal planning, unexpected challenges (hello, coronavirus!), family vacations, holidays, setbacks, weight loss plateaus, and more. She taught me how to measure and celebrate progress in multiple ways, not just by the number on the scale, and how to make the most out of every phase of my journey – from cutting to revising to maintaining.
Like a lot of women, I've spent years trying to find a way to lose weight and keep it off. Honestly, I have learned that it takes consistency, patience, and hard work to get there. But having someone like Lauren in your corner, guiding you and cheering you on, makes all the difference in the world! I recommend Lauren wholeheartedly to anyone looking for a nutrition or fitness coach. It's hard to count all the ways I benefitted from her coaching over the last six months and, I'm sure, for years to come.
-Lynn F
Reflecting back, I realized I was so unkind to my body, always wishing for smaller. For so many years I barely ate anything and survived off a thousand calories or less. After restricting for long periods of time, then came the binging. The cycle of restricting and binging kept repeating itself and ultimately led to an unhealthy relationship with food, weight gain and a thyroid disorder. It took a long time to change my mindset and stop the abuse. My desire was to be healthy and strong, but I had no idea where to start. After trying several diets with no success, I was ready to give up until I discovered macro counting through and IG influencer. I realized that hours of exercise and eliminating carbs was not the answer. Sure, macro counting seemed intimidating at first but what else did I have to lose. And to my surprise, I started seeing results from 45-minute workouts and fueling my body properly (and learning that carbs are not the enemy)!
As I progressed in my journey, I realized that being a caloric deficit forever would not lead me to my goal, you have to go through periods of maintenance and deficits to get there. Being new to macros, I had no idea how to reverse and discovered an accountability partner is exactly what I needed. After a lot of research and hesitation, I decided to reach out to Lauren. It was a perfect fit, not only is she experienced and certified but a coach you can relate to who candidly shares her journey and struggles. She taught me that foods is fuel, eating the right balance of protein, carbs and fat gives you ENERGY! Lauren guided me though an extended cut before starting my reverse and I could not be happier with the results. She truly customizes a plan for each client based on your body's biofeedback and what works best for you.
I'm so thankful for Lauren, she is a wonderful friend and I'm grateful for her partnership. She always lifts me up when I start doubting myself and will always be there to celebrate my accomplishments no matter how big or small – Thank you for everything you do!
-Kim B
---
"Having Lauren as a coach as been nothing but amazing. These past three months have flown by. Each week, even when I wasn't the best with my nutrition, I was excited to check in with Lauren because I knew she could turn any negative into a positive. Lauren is motivating, inspirational, respectful and selfless. She listened to me and my concerns, and made the best macros for me each week.
Turning my time with Lauren, we were in a calorie deficit for quite some time. I was not losing and binging often. Lauren brought to my attention that we should look into reverse dieting. I trusted Lauren and let me tell you it was by far the best decision I have ever made. I am eating so much more food now and am around the same weight. I learned that I can not be dieting year round! My poor metabolism! Lauren is the one who made me realize all of this.
Now that I'm eating more, my workouts have been amazing filled with weight lifting and hitting PRS! (with a little added cardio). Lauren helped me realize that a reverse if crucial to get calories back up, metabolism firing, and workouts amazing. All of these things help me for my next cut! Lauren reassured me each week and educated me when I had any questions.
Seriously this woman is amazing! Also she is a nurse! I am in nursing school now so she gets the struggles of being stressed and it leading to binging! I can't say enough good things about Lauren. I can't wait to work with her again.. Thank you so much Lauren for changing my life!"
-Gabby L
---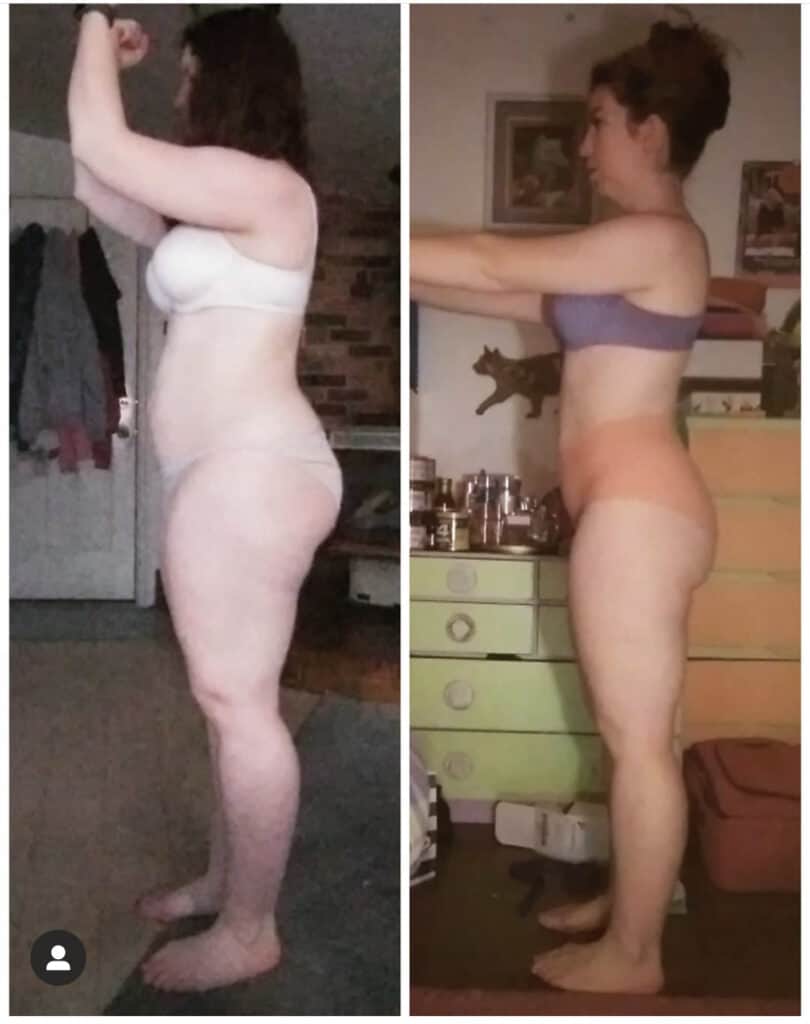 I found Lauren on instagram winter 2019. I started following her, loved her content and recipes, and found she was coaching. I had never had a coach, but I knew I was ready to make some serious changes, and she stood out as the one for me after researching a few others. I reached out and found that she did not have any spots available, but stayed patient, and she was able to take me on the start of 2020! I was not completely new to the concept of macros, but I was really new to navigating them; when to lower, how to read biofeedback, etc. Lauren has helped me, listened to me, and encouraged me the entire time. She listened when I was burnt out, and gave me her blessing to take lil break while traveling with my Dad. It was exactly what I needed, and I came back ready to hit those macros! We took this cut long and slow, which is something I desperately needed to learn consistency. And I am now in my first reverse with her!!! She is the perfect balance between your friend who encourages you and celebrates your wins with you, and the coach who knows when to push you to go harder. I would recommend her in a heartbeat ❤
-Jillian S
---
I've worked with Lauren on and off for over six months, and she is nothing short of amazing! I had worked with another online health coach before and it wasn't the best experience, so I was super nervous about trying to work with another coach! However, I am SO glad I put my faith in Lauren! We have developed such an amazing relationship and she is the most supportive and positive person I've ever worked with. Lauren always knows what to say and always knows how to boost my confidence back up when it is lacking. Not only is she supportive, but she also pushes me when I need it! Lauren has not only helped me with my physical goals, but also my emotional and mental health. She always reminds me of the little things that I can control and to just simply take it one day at a time. I truly don't know what I would do without Lauren. Her support, dedication, reassurance, and positivity is amazing. Lauren is truly one of the kindest souls and amazing at what she does!
-Tessa W
---
"Going from athlete to normal person has been an adventure, especially with my relationship with food. Going from eating whatever I wanted without a care in the world for the endless amounts of training, to having a normal schedule of work and gym sessions maybe 3x a week (on a good week); my eating habits did not match my new life. This is when I look for answers. Whole 30, weight watchers, etc.; you name it I tried it. Then I found the idea of flexible dieting and macros.
I was on and off in my first couple years going back and forth with sticking to my numbers. Constantly questioning if it this worth it, am I crazy to weighing my food? Then I started to see results. It was SLOW and did not happen overnight, but they happened. After doing it on my own I hit a plateau and realized I needed help to stay motivated and learn about what macros were all about in relation to my own nutritional needs. This is when I reached out to Lauren.
I had been following her for a while; loving her outlook and real take on this thing called flexible dieting. It helped to know that this "macro" thing isn't weird. It's normal, doable and for EVERYONE who wants to put in the work.
Having her as a coach changed my life, and this is the honest truth. She helped me build an a better relationship with food by helping me in my first reverse diet. Who knew someone telling you to eat more and that it will be okay would be so hard. She was encouraging, but also gave me the push I needed when I hit walls. She gave me strategies to get through my impulse over eating spells when eating out. She gave me advice on how to indulge, but still feel like I won the day staying in my macros. Lauren's approaches her coaching by being the friend you need to nerd out on the science behind it all, but the coach to make sure you progress and see the results you desire. I am more confident in myself, my eating, and my life in general. This is not only because my physique changed, but because I understand myself and what my body needs to thrive; this knowledge set me free.
Lauren is awesome, she is real, honest, and compassionate. She made me feel heard and understood in my journey."
-Jill B
---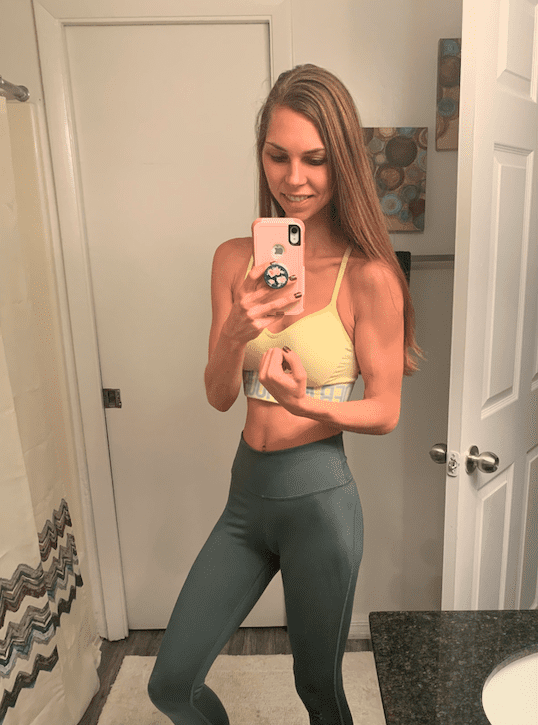 "Lauren has been absolutely amazing. I had previously done a one-time macro consult with her and loved the results, but at the time I wasn't ready for a full on coach. It wasn't until I hit a plateau that I decided to give a coach a shot. It was so easy to work with Lauren. She already had my goals set out and was ready to work with me.
Having Lauren coach has made such a difference for me. I didn't realize it until I started working with her that I was lacking motivation. I thought I was fine on my own and had enough self-discipline to meet my goals, but having someone to hold me accountable has allowed me to actually start making progress towards my goals. Lauren has given me so much guidance and advice and is always prompt with answering any of my questions. In such a short amount of time I have seen so much progress and I feel a lot stronger in the gym! She's helped me increase both my calories and taught me how to push myself more in the gym. I am so excited to continue working with her!"
-Amy B
---
I reached out to Lauren after my wedding, when I was struggling to stick to my macros and nutrition on my own. I chose Lauren because after following her on Instagram, she was such a positive light and so knowledgeable when she talked about her coaching. After explaining my situation to Lauren, she recommended that I do a reverse as I had been dieting for 3+ months. This was new territory for me, and I was thankful to have someone like Lauren guide me through a reverse, then maintenance, and then back into a cut. She is understanding, but speaks the hard truth that needs to be said and gives tough love when needed. She is also very good at responding to questions on anything and everything, and thorough in her explanations. I had a great experience while working with Lauren and would definitely recommend others check her out who need guidance in meeting their fitness and nutrition goals!
-Kollie B
---
BUSY BABES GET FIT CHALLENGE