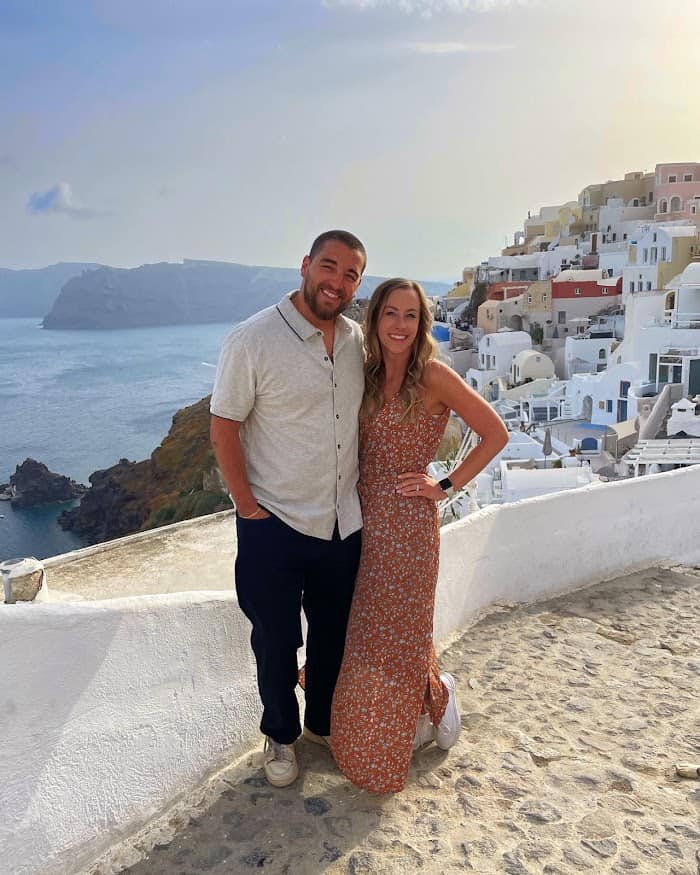 Everything about our honeymoon in Santorini all compiled in one post!
Without a single doubt, the coolest, most iconic, beautiful place we have ever been too. All I could keep thinking when we were there was "WHAT A DREAM!" We are so grateful we got to celebrate our honeymoon in such a special place. We got a ton of questions while we were there so as promised, sharing all we did and all our favorites in this post. I hope you save this post when you plan a trip! We made so many wonderful memories and already can't wait to go back. One day! 😉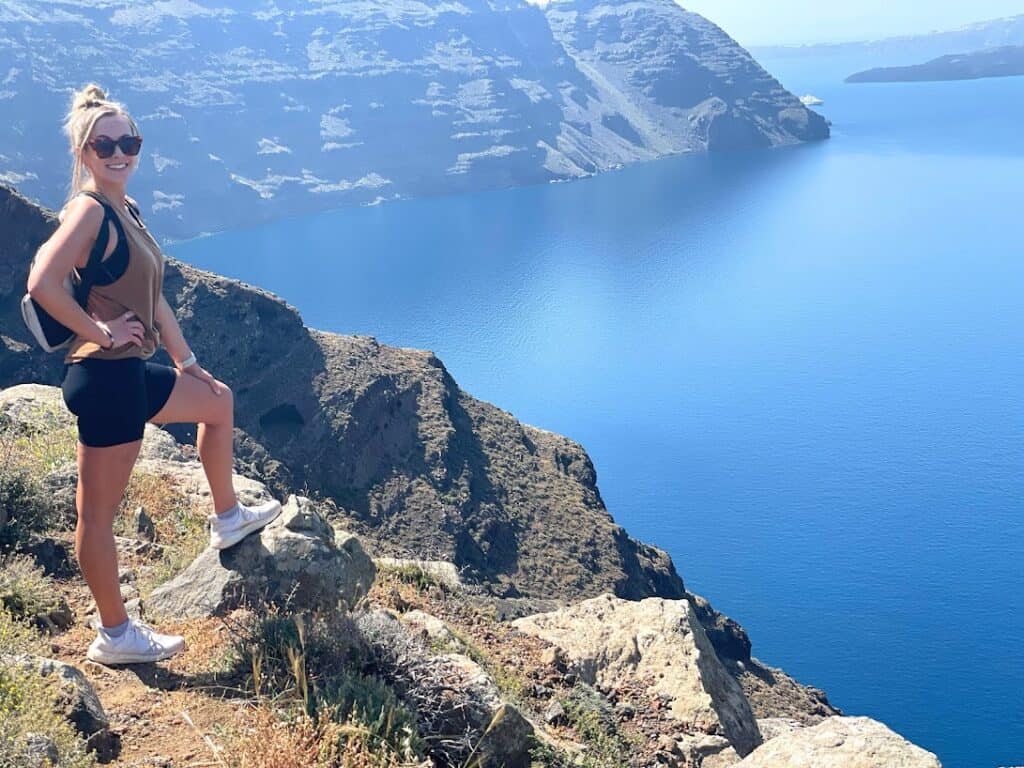 QUICK OVERVIEW
Before we dive into all the details, I first want to highlight some of Santorini as a whole.
Santorini is a part of a group of islands known as the Cyclades islands (220 islands) — the largest being Naxos and the most popular islands being Santorini and Mykonos.
It's one of the few places in the world where you can find a volcanic crater in the sea.
It takes 45 minutes to get from one end of the island to the other. 
The island is also known as Thera in Greek.
There are multiple villages in Santorini – about 20 total, with the most popular being Oia & Fira. 
Anywhere from April to November is a great option to visit.
The official language is Greek but most people talk English.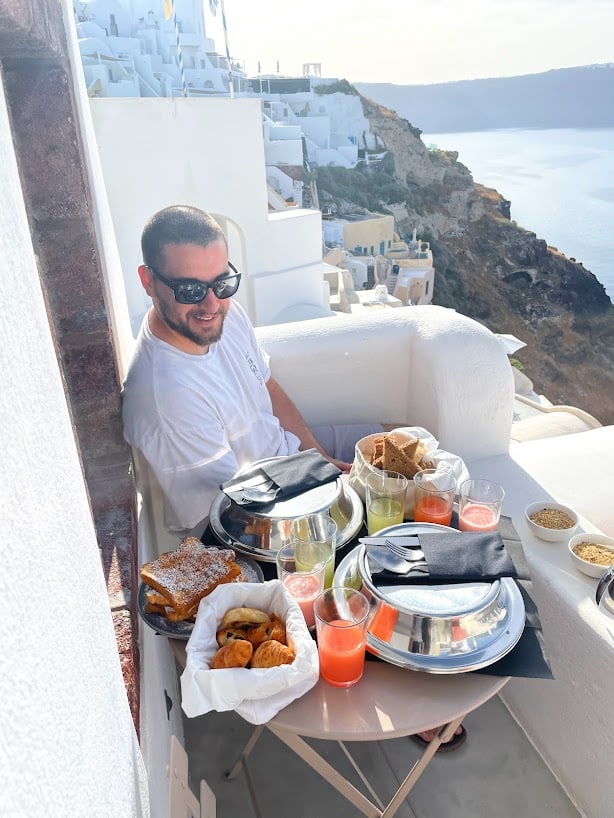 WHERE TO STAY
Before even searching for hotels, it's important to determine which village of Santorini you want to stay in. They are all very different so I would definitely do some research on them all before deciding.
The most popular villages to stay in are Fira, Firostefiani, Imerovigli and Oia. 
Fira is the capital of Santorini and the main transport hub of the island, which has its perks. It has some of the greatest views of the caldera and a lot going on. I wouldn't personally recommend staying there. It's beautiful of course– it's just not AS nice as some of the other places on the island!
Firostefani and Imerovigli are both quieter villages located in between Fira and Oia. They both have the same amazing views of the caldera as Fira and Oia, but are more residential and less touristy. If you want to be away from all the action (but still close to some yummy restaurants), I think both of these would make good options.
Oia, pronounced (ee-yah), is where we stayed and where I would recommend everyone stays if they're going to Santorni. All of Santorini is beautiful, don't get me wrong, but with its iconic blue-domed churches, whitewashed villages, and dramatic coastline, Oia is THE most picturesque of them all.
Oia is what most people think of when they think of Santorini. The streets can get busy, sure. Especially in the summer months. But most hotels are off the beaten path from the main road, so it was still very quiet even though we were in the heart of it all! I would 100% recommend staying in Oia every time! Even if it is a little pricier. It CAN be harder to get to from other places on the island– plus there aren't a whole lot of places for parking, since most of Oia is pedestrian walking. So by staying in Oia, you'll have easier access to the most popular place in all of Santorini.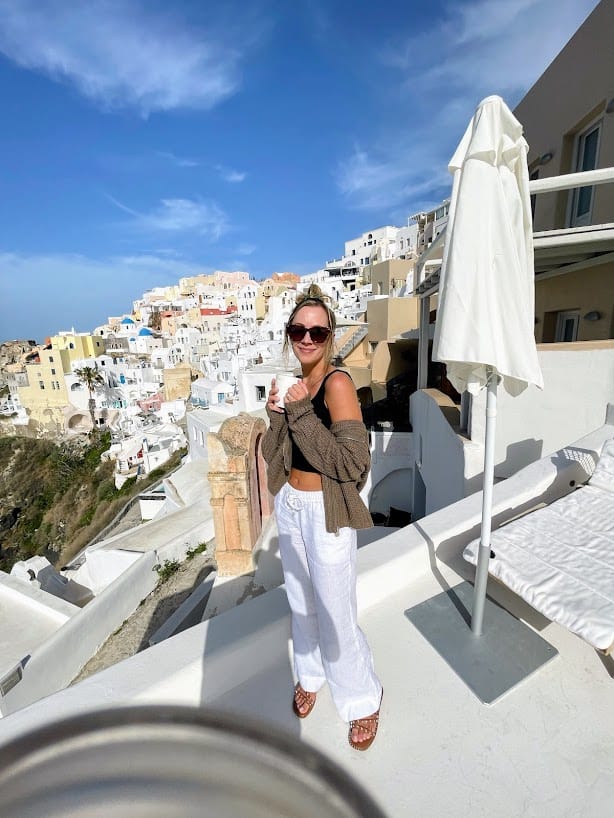 If anything, if you are planning to stay somewhere else, I'd recommend staying in Oia for part of your time, and maybe somewhere near black beach for the other part!
As per Santorini Dave: "Of any destination in Europe, Santorini is the one place where splurging on a great hotel is money well spent. In many destinations (Paris, London, Rome) you spend the majority of your day out and about. But in Santorini, with those incredible views, it's very common for people to spend a good chunk of their day in their private hot tub or lounging on their deck, staring out into the insanely beautiful jaw dropping caldera." Which we most definitely did!!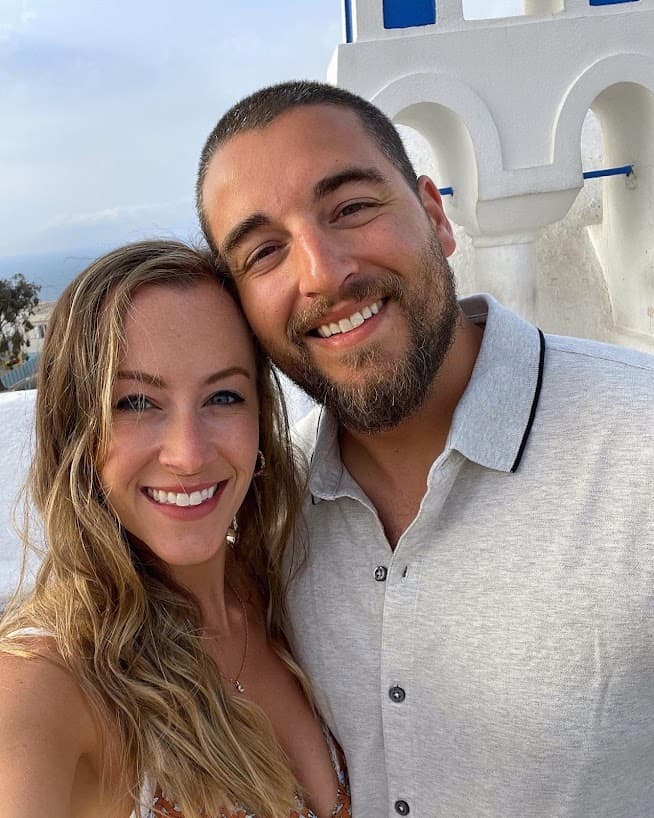 Armenaki Santorini is where we stayed and I truly don't think we could have picked a better place! Located in the heart of Oia, so you're super close if you want to go grab a quick coffee or rest in your hotel for a while before going out for more food/exploring. We had our own private hot tub and deck with the most INSANE view. I still dream of it. And don't even get me started on the epic brunch spreads….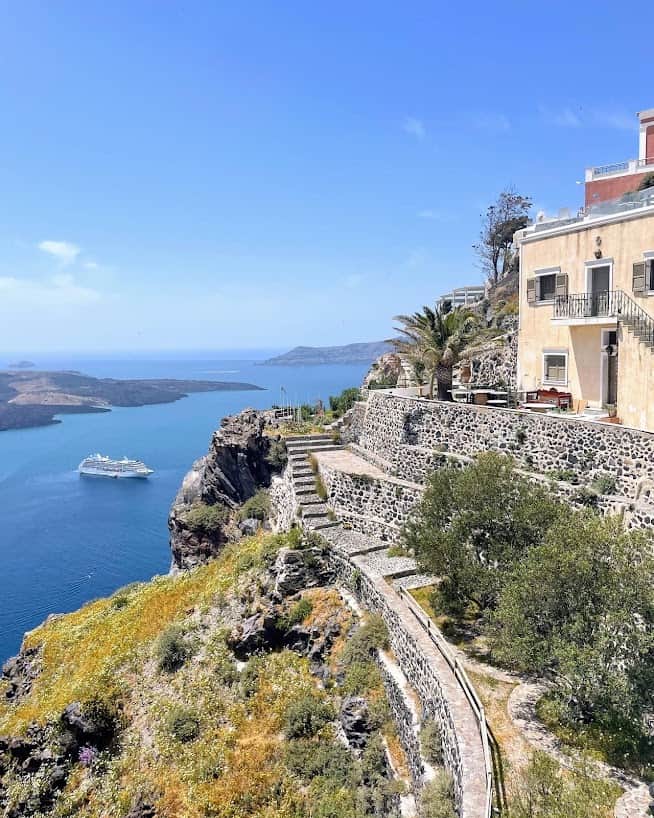 WHEN IS THE BEST TIME OF THE YEAR TO GO?
Anywhere from April to November is a great option. IF you are wanting to visit other islands (and especially if you are wanting to get in the water some while there) my personal suggestion would be to travel between the end of May to the end of September. This way you are guaranteed good weather and businesses being open for the season.
We went right after our wedding (last week of April through the first week of May) and we definitely didn't regret it– it was SUPER nice to get the BEST table at each restaurant at the front, overlooking the beautiful views of the caldera high up in the cliffs. I won't deny though it would have been nice to do some swimming and when we went it was just too chilly for that! Luckily most hotels have private outdoor hot tubs that are perfect for chillier evenings. It was incredible sitting out there overlooking the view of the volcano. We definitely took advantage of it every night.
We chatted with the locals while we were there and all agreed that the end of May through the end of September was ideal for travel. Particularly the last week of May and whole month of September is what everyone was saying was the BEST time to come (to get the good weather and avoid the crowds of June-August).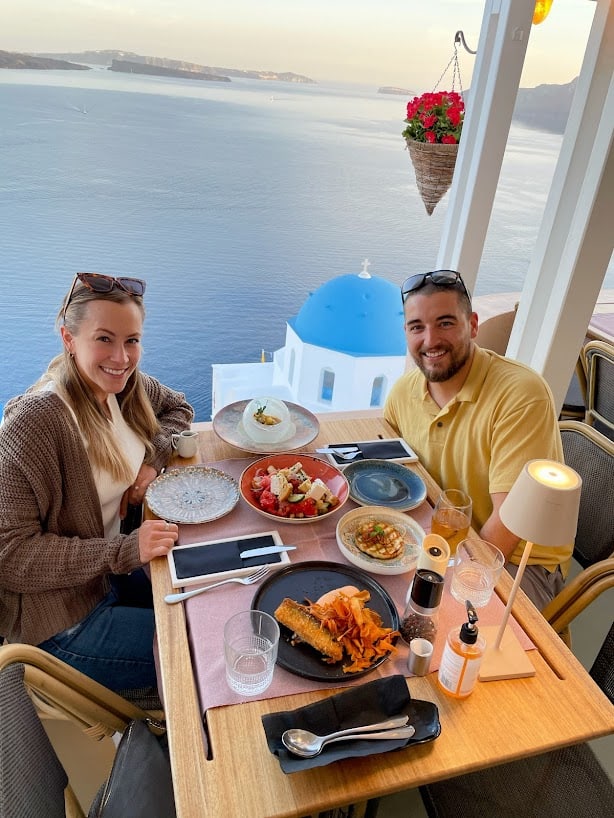 HOW LONG TO STAY IN SANTORINI?
We stayed 8 days. A LOT of this answer depends on what kind of trip you are taking. We purposely chose JUST to stay in Santorini (versus island hopping) because we were looking for a good balance of exploring + chill time for our honeymoon. We just didn't want to have to pack up all our stuff to get to the next place, we wanted it to be CHILL. Plus, with the time of the year we were going (end of April, early May), there wasn't a whole lot happening on the other islands. Many businesses were still closed and the water was definitely still chilly.
Honestly, Simon and I both were not ready to leave even after a full 8 days!😂 But if you're wanting to visit other Greek islands too, I think 4-5 days in Santorini would be a good sweet spot. Santorini is the biggest island among all the Greek islands, so you'll definitely want to plan for enough time so you can see everything, and especially so you can EAT at some of the best places!!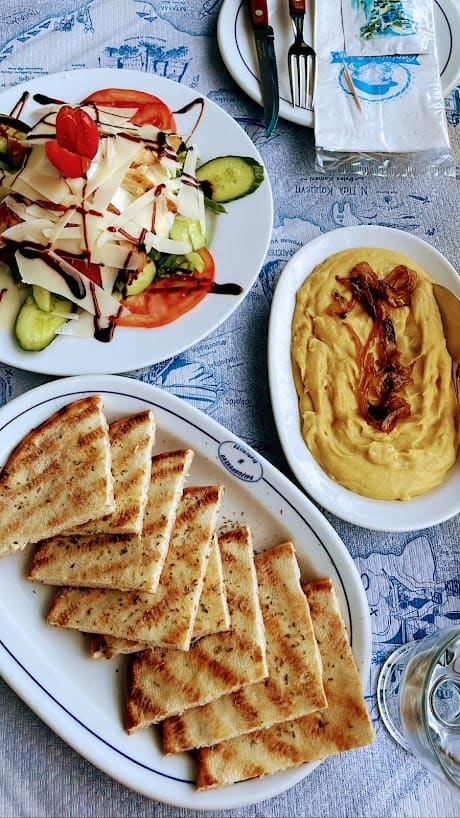 WHERE TO EAT AND DRINK IN SANTORINI
* I'd recommend for lunch 
** I'd recommend for dinner
*** I'd recommend for lunch or dinner 
All in Oia:
Strogili restaurant*** – get the feta wrapped in phyllo dough drizzled in honey and sprinkled with sesame seeds. We tried this dish at multiple places and this place had the BEST. 
Mezzo oia* – souvlaki was amazing here! The best we had anywhere. Also a great place to stop to chill for lunch or a pick-me-up– coffee or wine/mixed drink. 
Oia gefsis – BEST cocktails. Simon begged to go back here multiple times 
Lolita's gelato – i'd deem this a must 
Boozery – drinks you can walk with 
Thalami restaurant*** – amazing view, great food and service. This was our second favorite place we ate! 
Thalassia** – ask to sit on the deck! 
Melenio – one word. DESSERTS. 
Flora comfort cuisine* – great cocktails and apps! Loved their tzatziki 
Dimitri's in Ammoudi Bay***
Ammoudi bay***
Roka** – Santorini Dave recommended this as his favorite in all of Oia and Simon and I both agreed. No view, but the food is so authentic and good. So good that we ate dinner here twice. 
Pitogyro*** – best gyros in all of Greece as per 3 locals. Great cheaper lunch option (or late night option). 
Skiza Café*** – great pizza and the staff here was just awesome 
Passaris Bakery – we walked here to get coffee every morning! A GEM. also great for quick breakfast items and their chocolate wrapped desserts (the kind in foil) were INSANE. Go get some and trust me. 
Karma Greek restaurant** 
Piatsa Souvlaki Grill House* – great lunch option, very affordable prices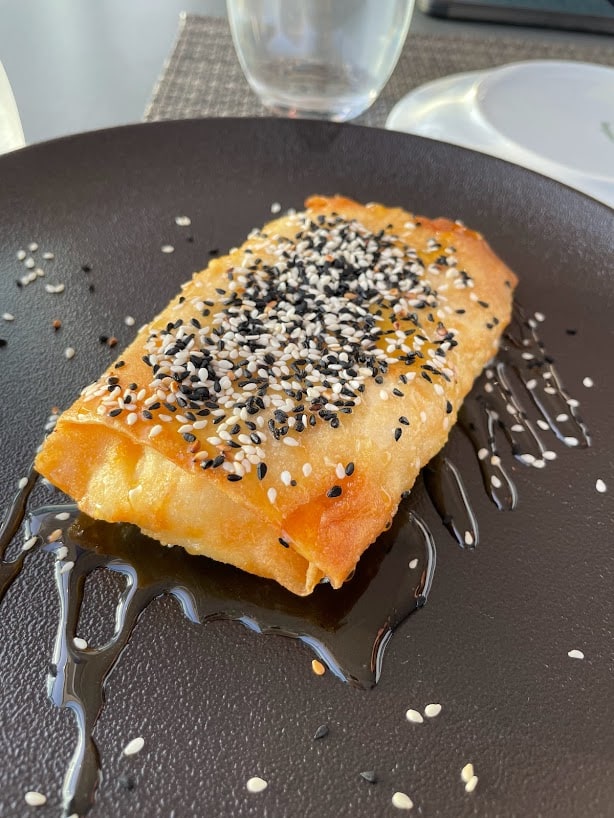 Other parts of Santorini:
Captain's Corner in Kamari – our Top 3 of the whole trip! Everything was so authentic and packed with flavor!
White Lounge Restaurant in Imerovigli – delicious apps, great drinks, killer views, was just a perfect stop to rest on our Fira to Oia hike (except we hiked Oia to Fira way!)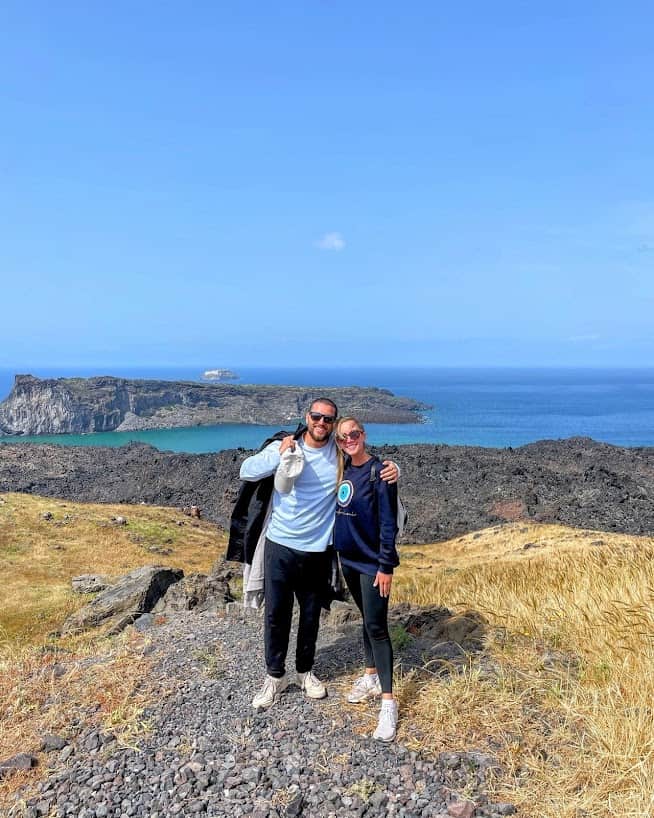 WHAT TO DO/EXCURSIONS
Hike Fira to Oia – this was one of our favorite things we did! Just gorgeous!
Enjoy the sunset – there's a reason it's deemed one of the prettiest sunsets in the world! Old castle Oia – at the tip of the island in Oia. 
Check out Ammoudi Bay.
Shop the stores – fun just to walk around and see everything! 
Take a romantic catamaran cruise – daytime or at sunset!
Volcano boat tour + hot springs – a MUST
Enjoy a slow morning with your brunch overlooking the caldera – brunch lasted at least an hour every day and it was one of our favorite parts of our days! 
Wind down after dinner with some drinks in the hot tub overlooking the caldera – they have plenty of markets where you can pick up champagne, wine or beer for cheap! We did this every night. I mean hot tub with a killer view? You take advantage of that. 
Rent a quad and drive the island – we didn't do this because it was a little chilly for me haha but we saw a lot of people still doing it and it looked like so much fun! 
Black sand beach – a cool spot! Would definitely check it out. On the other side of the island from Oia but worth it to see. 
Red sand beach – also on the other side of the island. Also worth it to see. 
Go wine tasting – Santorini is known for their wine. We tried some from Santo Winery, Domaine Sigalas, and Venetsanos Winery (just to name some of the island's wineries) and they are all so unique in their own way. Also most of the wineries have an incredible view! Perfect for sitting and taste testing. 
Akrotiri Archaeological Site – This ancient city was covered in a heap of volcanic ash in the late 17th century B.C. and has been preserved for present-day archaeologists and tourists. Located right next to red beach so you can do them both at the same time.
Museum of Prehistoric Thera – lots of ancient artifacts here, really cool to see all the history.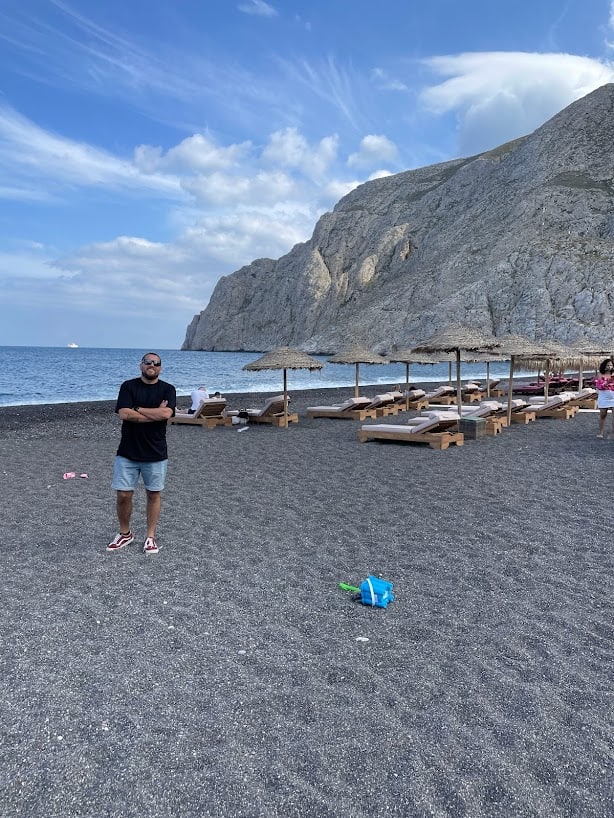 TRANSPORTATION
Getting around in Santorini Island is easy and not so expensive. You can move around by renting a car, motorbike, or ATV (quad) or by taking a taxi or local bus.
From the airport, we were able to walk up to a Taxi right away. It was easy peasy.
If we wanted to get a Taxi to the other side of the island, we just called our hotel and they called one for us.
There are plenty of places you will pass walking around that have cars and ATV's available to rent. No need to do so at the airport because you will definitely see them. And I would say you definitely don't need to rent one your whole time there. I would just rent it for part of your trip when you are planning on exploring more parts of the island.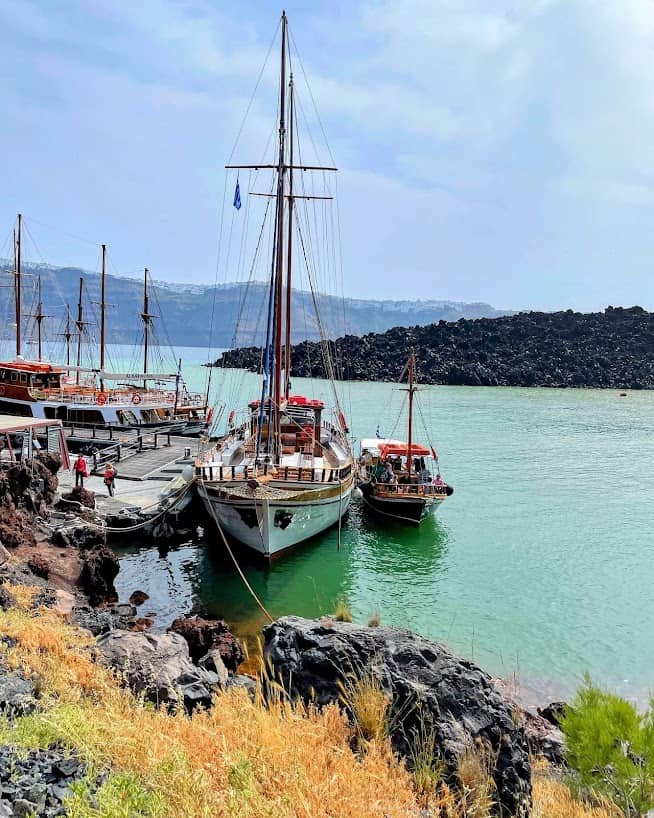 ISLAND HOPPING
I don't have much insight on this since we decided we wanted to spend all of our time in Santorini, but definitely check out Santorini Dave as he has some awesome resources!!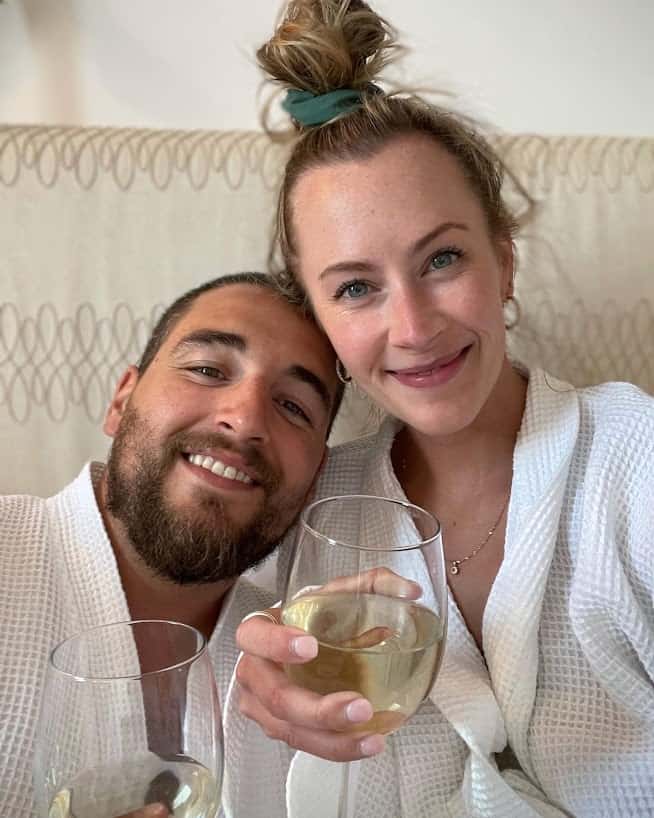 CASH VS. CREDIT CARD
Most places take credit cards. But there will be some things that are cash (euros) only. So I would definitely pull something out. For example, we needed cash for ALL our Taxi rides. And of course cash to tip our guides, house keepers, and any other workers.
We started with 200 euros and needed to pull out another 200 euros before the trip was over.
There are ATMs all over the island so no need to sweat about finding one if you don't want to carry too much cash at once!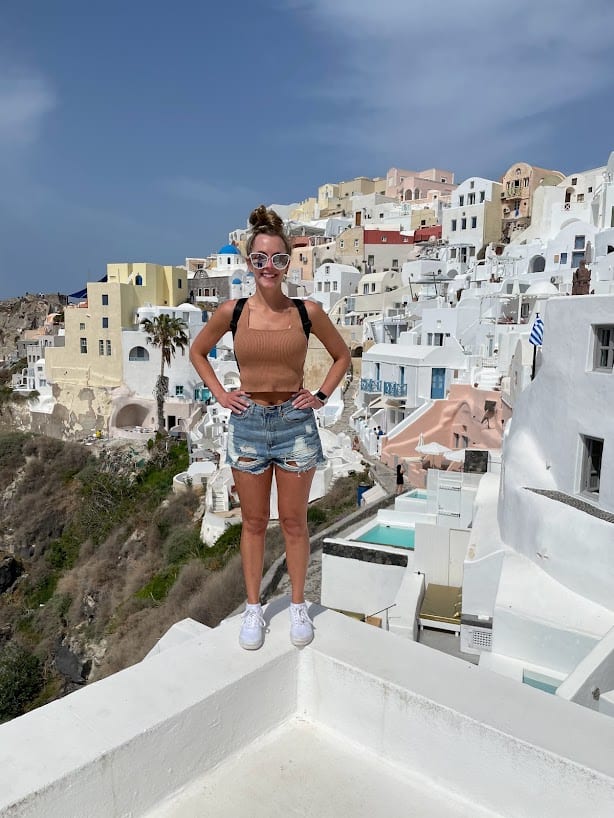 WHAT TO WEAR + PACK 
For links to the outfits I wore while we were there, head to my LTK page!
Sneakers!! – I can't stress this enough. Sneakers are a must here! I brought my white vans and they were perfect because I could dress them up or down and they go with everything.
Sandals – for nicer outfits, some that stay on your feet WELL since Santorini is so mountainous. Honestly, I wouldn't even bother bringing heels or wedges. No one wears them there.
Swimsuit – staple. Even if you're not planning on getting in the ocean, for the HOT TUBS! Sundresses – from super casual to dressier ones. also a staple, especially in the warmer months when it can get hot in the afternoons. So many women wear sundresses here!
White pants – after my vans, my breezy white pants are my favorite thing I brought! They kept me cool when it was hot but also comfy when it was more windy or it started getting cooler. Perfect Santorini vibe! 
Jean shorts + Jeans – shorts during the day, jeans for at night 
Basic neutral tops – so you can pair with multiple things (i.e. white pants, jeans, jean shorts, biker shorts)
Cardigans + Jackets – I'd bring a few different colors for options. It gets chilly at night so you'll want to bring one to dinner! 
Athletic shorts for adventuring/hiking – my biker shorts were perfect for this.
Sunglasses – it's bright here. Definitely don't forget shades. I would even bring two pairs. 
Backpack – for longer outings/excursions/hikes.
Small purse – for going out to dinner.
Hat – or you can just buy one there like I did!
Sunscreen – again, the rays can get brutal, you'll definitely want some sunscreen. 
European Travel adaptor– we brought two of these European Travel Plug Adapters between the two of us. I love these because you can charge up to three things per adaptor.  
COVID TESTING
At the time we visited, all air passengers traveling to the US, regardless of vaccination or antibody status, were required to provide a negative COVID-19 test result or documentation of recovery. So we had to get a COVID test before flying home.
We were worried about being able to find access to testing, but our hotel made it super easy for us. They just asked us when we needed it and scheduled a doctor to come to our hotel room! I'm sure many of the hotels would offer this as well, but even if not, there are clinics on the island where you can walk in and get tested. We'd thought it'd be hard, but It was a wasn't bad at all!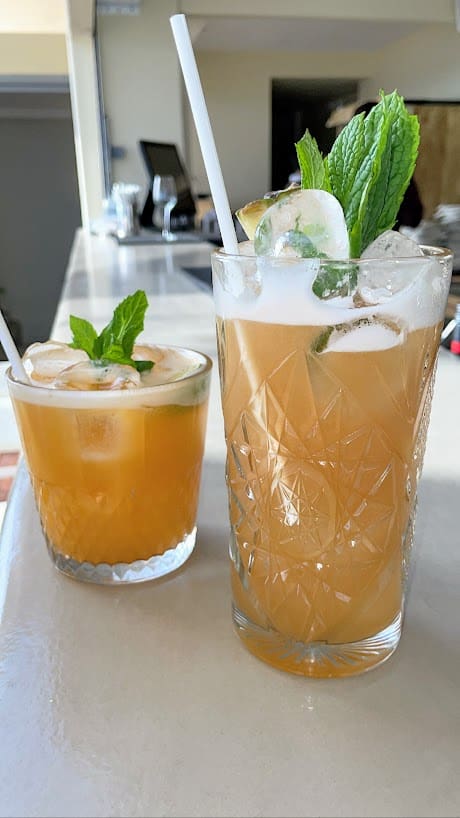 RANDOM FINAL NOTES
Try the Frappe or Freddo Cappuccino! Coffee lovers, you will love this! It's basically Greece's version of iced shaken espresso. I got one basically everywhere!
Get the feta wrapped in phyllo dough, drizzled with honey and topped with sesame seeds. Maybe i'm biased but it's the BEST😍
Bring sneakers. I wore my vans the whole time pretty much. There are so many hills and bumpy roads, you will want to wear shoes that are easy to walk in!
Bring sandals that stay on your feet well for nicer outfits – honestly would nix bringing any heels or wedges at all. I brought some and didn't wear them once. It just was not safe to😂 no one else on the island is wearing them either so I promise you won't regret not bringing them. 
Bring jackets/cardigans – it gets CHILLY at night. Plan to bring a light jacket to dinner!!
Cash – you'll definitely want to pull out some cash to have on hand. Not all places take cards. 
Reservations – Reservations are a must here! Depending on what time of year you go, you may be able to get in still. But even with the time of the year we went, we always sat in the BEST seat when we had a reservation! 
Book reservations far enough in advance – I can't stress this one enough. Especially in the summer months. These restaurants have limited seating and they fill up fast. For some of the most popular places you need to book as early as 3 months in advance.