MEAL TIME JUST GOT SO MUCH EASIER!
Say goodbye to the headache of meal planning and calorie counting and HELLO to healthy, macro-friendly meals that you and your whole family (YES, including the kids) will love!
Introducing my Meal and Recipe Guides, designed to help you stay on top of your fitness and nutrition goals.
It doesn't matter if you count macros and calories or if you're just trying to eat a little healthier. Each guide is packed with delicious and simple to make recipes to make your life EASIER and healthy eating MORE FUN!
The guides also include example days of eating at different calorie levels so you can choose a plan that will work best for you. And even if you don't track your nutrition, you can still feel great about knowing you're eating wholesome, healthy meals.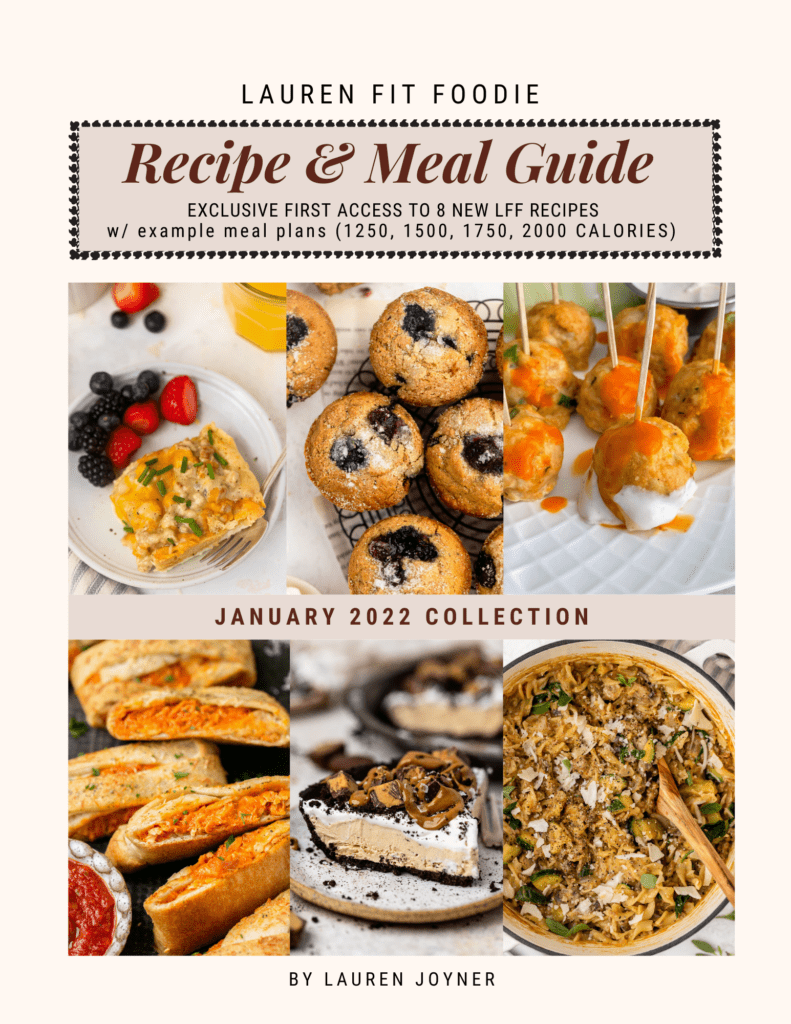 FEATURES OF THE RECIPE & MEAL GUIDES
Exclusive access to 8 new LaurenFitFoodie recipes in an easy to read/print PDF format
TWO weeks of meal plans with example 1,250, 1,500, 1,750 AND 2,000 calorie days
Measurements in cups/tablespoons AND ounces/grams
Recipes already loaded into the My Fitness Pal database for easy logging
Plans built around meals the whole family will love
Each guide is only $10
WHAT ARE MACROS?
Macros are short for macronutrients. Macronutrients are comprised of 3 categories that most of our energy from food comes from: protein, fat, and carbohydrates.
All foods have macros. Counting these nutrients can help you understand where your energy is coming from. And knowing this can help you adjust your diet to support your specific body composition and fitness goals!
WHAT DOES MACRO FRIENDLY MEAN?
A meal is macro-friendly if it is well-balanced in proteins, fats, and carbohydrates.
In my experience, eating macro-friendly meals is the best way to achieve the lean and toned physique so many people chase.
While weight loss is, of course, fueled by a calorie deficit, keeping protein, fat, and carbs in mind can also help you on your fat loss or muscle building journey.
These nutrient categories all play a role in maintaining muscle mass, normal hormone levels, and happy and healthy brain function—all of which are critical to performing your best!
WHAT IF I DON'T TRACK MACROS OR CALORIES?
No problem! Plenty of people are using these guides to eat healthier and achieve GREAT results. Macro-tracking isn't for everybody, and that's ok. You can still reach your goals without this method.
These guides are a great option if you don't want to have to think about eating healthy. I've done that for you. All you need to do is make the meals!
WHICH CALORIE DAY IS RIGHT FOR ME?
I cannot stress this enough. Do your research before picking an example calorie day to follow!
Know what you need to be eating to achieve your goals. Choosing a calorie day that is too low for your needs makes it very difficult to stay on track. Trust me, I've been there! We want to give our bodies the fuel we need to be as successful as possible.
Eating in an appropriate deficit will help you stick to the diet and achieve the results you're looking for. And my guides will help you enjoy your food along the way!
DISCLAIMER: I am NOT telling you to eat 1250 calories. That amount of calories is too low for most of the population. I still include this lower calorie as option because many people like using it as a template to add other things THEY choose versus what I chose in higher calorie example days.
HOW TO DETERMINE YOUR MACROS: RESOURCES
Here is a blog post I wrote for you to help you calculate your own macros. This is the most accurate way to do it.
You can also use an online calculator. However, know that this will be more of an estimate. I recommend this one.